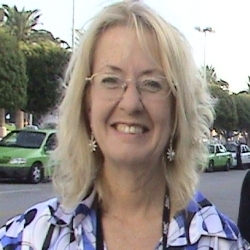 Ottawa, Canada, August 25, 2011 --(
PR.com
)-- AstraQom, a telecommunications, ethnic-specific community portals and small business solutions provider, announces its addition of a new VP of business development and marketing. The Canada-based company continues to collaborate with local and now more than ever, international IT-related events, partners, and applications as result of the 'bonus' of the world-renowned IP communications and social network expert Suzanne Bowen in this position.
Ms. Bowen's previous leadership in business development, marketing, and communications include DIDXchange, a USA-based wholesale telecommunications DID marketplace, which she is also co-founder; chairman of ITGulfcoast; Florida Writes! program; and Z-Tel Communications. She played a crucial role in adding over 20,000 telecom, wireless, and voIP service providers from 173 nations to the DIDX marketplace to buy and sell wholesale origination since 2005 and with Super Technologies, Inc. the holding company since 1999.
"Bowen's reputation and voice are recognized as a key mover and shaker in the IP communications and social media areas. Her voice can be heard and her face on hundreds of audio podcasts and video interviews on Youtube, Viddler, Qik, Podbean, Linkedin, Twitter, TelecomYou.com. Many in the wholesale industry of telecom have met Suzanne Bowen at hundreds of conferences in North and South America, Middle East, Asia, Africa, and Europe. Her experience and connections add a certain je ne sais quoi to an already fast-growing and popular telecom AstraQom Team of employees," shares Jonathan Sowah, CEO and founder of AstraQom.
With nearly 30 years of management, marketing, communications and business development experience in education, telecommunications, IP communications and social media, in senior marketing and brand-building roles, Suzanne Bowen has already added new elements of effective crowd-sourcing, customer and user collaboration, and non-traditional multi-media methods for AstraQom's PinoyKubo social network. Most recently, she was part of a team that won the Total Telecom World Communications Changemaker Award, VON Pulver Media Service Provider Innovator Award, and Computer World Honors Program for a variety of telecommunications innovations she co-founded.
"I first met Suzanne when she came to visit the Silicon Valley for meetings with potential business partners and innovative companies. She is one of those people you can immediately connect with, she has a great sense of business and is a true connector. Suzanne is more than well connected in the telecommunications space and beyond. She is extremely tech-savvy and knows how to use the Internet very effectively. It is always a pleasure to meet Suzanne with her positive attitude, she is an inspiration to anybody that works with her," Frederik Hermann, Director Global Marketing of JAJAH Inc. shares.
Bowen holds a B.A. in English and graduate studies in Instructional Technology and Media Education from the University of West Florida and has experience in Japanese and Spanish as well as her first language English. As the AstraQom's clientele (both individuals and organizations) grows internationally and in number, AstraQom will continue to add versatile, well-experienced, and well-respected members to its team. For more information about AstraQom and Suzanne Bowen, please visit http://www.astraqom.com and http://www.linkedin.com/in/suzannebowen.
###