Local Cleveland Skincare Serum Business Will Participate in LA's OThree Media's Urban Sanctuary
Trinity of Youth will be involved in the official launch of OThree Media's Urban Sanctuary in Los Angeles, California on September 2011.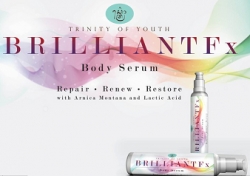 Cleveland, OH, September 01, 2011 --(
PR.com
)-- Trinity of Youth is proud to be given the opportunity to feature their BrilliantFx beauty serum for sexy, youthful and glowing skin at OThree Media's Urban Sanctuary in Los Angeles, California on September 6th 2011. This is where the L.A. elite will enjoy three days of pampering and gifting while they shop to benefit the St. Bernard Project thanks to 0Three Media.
The event will feature a multitude of interactive demos, displays, activities and entertainment.
OThree Media's Urban Sanctuary is an exclusive playground that will cater to the upscale crowd, offering an inside look at the newest brands that have raised the bar on fashion, technology, leisure and lifestyle products for the trendy traveler.
Urban Sanctuary will take place September 6th - 8th, 2011 at the Peninsula Hotel in Beverly Hills.
Celebrities and Media: 11am – 6pm
Pop-Up Store: 3pm-6pm
Trinity of Youth is extremely excited to be a part of this creative, popular, music event.
"It's an honor to be asked to be participating in such a prestige event," Diane Zokle, founder of Trinity of Youth, said. "The guests will love how our BrilliantFx beauty serum will make their skin glow and stay hydrated."
When asked how his concept for Urban Sanctuary was developed, 0Three Media founder Thom Vest remarked, "I really wanted to create a comfortable and interactive environment where celebrities, media, brands and taste makers could coexist while blurring the lines that have confined not only the retail experience but also that of the traditional gifting suite."
St. Bernard Project is an award-winning rebuilding, nonprofit organization whose mission is to remove physical, mental and emotional barriers for vulnerable families, senior citizens and disabled residents who are struggling to recover from the devastation and trauma caused by Hurricane Katrina and the Oil Spill.
For more information about Urban Sanctuary, visit O Three Media's site.
###
Contact
Trinity of Youth
Diane Zokle
(216) 896-9239
http://trinityofyouth.com

Contact