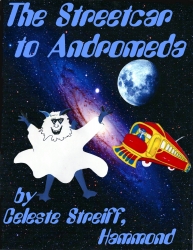 Pasadena, CA, September 02, 2011 --(
PR.com
)-- Imagine you could enter a world filled with strange and wonderful, character and beings, simply by taking a walk down your street and catching...the Streetcar to Andromeda.
Author, Celeste Streiff, Hammond's website
www.streetcar2andromeda.com
has been heralding the coming release of her new book for the last 3 months, and now the time has finally come. Right now you can view or Buy the e-book at: ebookit.com or Amazon.com. The Streetcar to Andromeda is an amazing and imaginative YA Book that will debut this fall, and as promised will be available everywhere by the end of September. The book has 151 pages along with the Book cover, including 42 colorfully illustrated graphics pictures, that were mostly all wonderfully done by the Author, herself.
The Streetcar to Andromeda book is a Science Fiction, Fantasy, and Adventure that is destined to become a true Classic, in every sense of the word. Filled from top to bottom with imaginative dreamers, humorous Characters, alternate Universe's and enchanted beings, it is a fresh and original approach to storytelling that can give young adults a perception in imagination and creativity that they can build upon.
The Streetcar to Andromeda is in some ways based on a true story that has a time line that begins in late 1938, when elsewhere and elsewhen was the youth of our storyteller. The Good and Evil that was happening then in the real world of our heroes, was in turn, mirrored in their Alternate world of Outer space.
The Streetcar to Andromeda will capture the hearts of kids of all ages, and that includes Adults too.
As the main character Jesse, in his wisdom says, "After all, in their hearts, Adults are just little kids with older faces." Jesse also said, "Sometimes looking back can show us the way forward."
There will be a significant amount of media releases about the book, by many top TV, Radio, Magazine and News Paper outlets concerning the books description and Author contact information. If a reviewer wishes to read and review the book, a free copy can be given by contacting the author.
The Streetcar to Andromeda will be released and distributed world wide through normal channels such as; Google Editions, Apple iBookstores, Amazon.com, Sony's Reader store, Barnes & Noble, Kobo Book sellers, Borders Books, Diesel e-book store and Ingram's Digital.
Author Contact information
Celeste Streiff, Hammond
626 660-6268
###