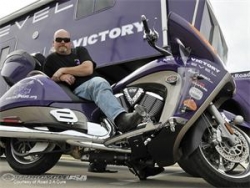 Los Angeles, CA, September 02, 2011 --(
PR.com
)-- Road 2 A Cure
Chris Calaprice, Co-founder and Director of Road 2 A Cure should be a dead man. But this amazing man is a walking miracle who is on a mission. Chris, at the age of 44, has survived pancreatic cancer twice, and also melanoma, the deadly form of skin cancer. Having survived these deadly diseases and countless drug experiments and regimens for 7 years, Chris was fed up with hearing that pancreatic cancer is a death sentence. Chris woke up one morning and told his wife Jennifer (Co-founder and Director) that they had to do something – something big.
Road 2 A Cure was born.
The Road 2 A Cure National tour was planned. They left the comfort of their home, stuffed everything in a big 'ole RV that Jennifer would drive while Chris braved the elements and risked his health and life to ride his Victory motorcycle to every corner of the U.S. to make a difference. He endured chemo treatments every 8 weeks then got back on the road for hundreds and hundreds of miles each day to meet with federal legislators, Congress, doctors, researchers, medical centers, survivors and families who have lost loved ones to pancreatic cancer.
"I knew as soon as I met Jen and Chris that K & G Cycles was going to be involved in the campaign," said George Marakas, CEO of K and G Cycles. "Chris' accomplishments to date are unheralded and the search for a cure for pancreatic cancer is something where we feel strongly that we can help make a difference. My guess is that our customers will agree and rally to support Road 2 A Cure. This is what bikers helping bikers is all about."
K & G Cycles
K & G Cycles was founded in 2006 by George and Kyle Marakas and is a state-of-the-art online motorcycle parts store with over 1,200 categories of parts from over 250 manufacturers and 6 major motorcycle parts wholesalers. The store, which came to life through George and Kyle's love of motorcycles and their hobby of restoring antique motorcycles, has become one of the best online resources for motorcycle parts. K & G Cycles guarantees enthusiasts will find exactly what they need for their project. They have parts for a late-model custom project or a classic restoration. K & G Cycles goal is to provide customers with the widest possible parts selection for American- and foreign-made motorcycles at incredible prices and with first class customer service.
http://www.kandgcycles.com
###