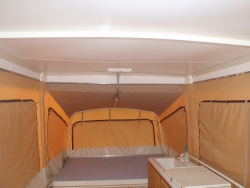 Scranton, PA, September 02, 2011 --(
PR.com
)-- Innovative Celtec uses for campers, retail displays and games.
Vycom's Celtec Expanded PVC is well-known for its great workability and printable surface. But some innovative distributors are finding new and unique uses for the durable material. Check out these new ideas.
Mike Conway, Chief operating officer at ACI Plastics, St. Louis, Missouri has come across several unique applications for Vycom's Celtec expanded PVC material. In one application, Celtec is used by a major home décor retailer for large flower display towers, with a multi-tiered series of triangles. "It's a very nice display piece," said Conway, "and the retailer's merchandisers found Celtec very easy to fabricate to get the effect they were after." He said one of the largest national department store chains is using Celtec for its great printability to create in-store directional signs.
And, for fun and games, Conway said the Texas State Fair in Dallas, TX, placed a very large order for ¾ black expanded PVC for a bean bag game. "It machined so nicely it looked as good as furniture—it even has shelves," said Conway. He added the fair needed a weather resistant game material, since it is held year round.
Meanwhile, a little creativity over at Crown Plastics in Plymouth, MN, has inspired Celtec's use for RV/camper liners. Matt Van Beusekom, Crown Plastics' Operations Manager, says, "We used Celtec to reline the ceiling and top side walls of a pop-up camper that needed to be gutted because the wood paneling was rotted out," he said. (See Photo) "It really turned out great. The Celtec was very easy to work with and will eliminate future rotting issues." Crown Plastics has also started a mail-order business for weddings and holidays, using Celtec for tiered cupcake trees.
With Celtec's durability and workability, the possibilities are endless. For more information, visit www.vycomplastics.com.
With a 25-year legacy of product quality, Vycom has six distinct product families serving a diverse mix of markets. In addition to Celtec®, other Vycom products families include: Corrtec chemical and corrosion resistant materials, Flametec® for clean room cabinetry and benches, Seaboard® outdoor furniture and marine components, Playboard® sheet for modular recreational and playground systems, and Sanatec® food processing and cutting board materials.
Vycom, a division of CPG International, is dedicated to maintaining an environment where quality meets performance. Vycom offers the largest range of products, capabilities and inventory for all your Olefin and PVC needs. For more information, visit
http://www.vycomplastics.com
.
###