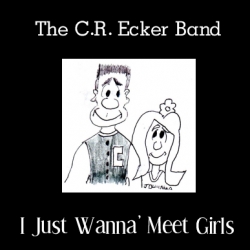 Los Angeles, CA, September 02, 2011 --(
PR.com
)-- The C.R. Ecker Band has released its second song from the "Bushwacked (Bewildered, Beat-up Bad and Broke)" album with the publishing company hard at work countering misconceptions that the title song was written to disparage former President George W. Bush.
Since that song was written in 1991, - when Mr. Bush was president of the Texas Rangers baseball team - the PR campaign to deflect unwarranted criticism was swift during the last two weeks of August, particularly after dissenters heard what had always been a sensitive and apolitical song about troubled economic times.
"So the misguided flap has not affected the song and it's back on track," in the words of C.R. Ecker, who wrote all the songs on the album. "And with all this going on, to say the least a distraction, what has emerged as another power performer is 'I Just Wanna' Meet Girls.'"
He notes that in less than a week, "I Just Wanna' Meet Girls" has caught up in popularity with "Bushwacked (Bewildered, Beat-up Bad and Broke) on Jango Internet radio and, along with its brother, is catching on across a spectrum of 25 countries world-wide.
Ecker says the U.S. and Canada lead the pack in "I Just Wanna' Meet Girls" listenership, followed by the Phillipines, Japan, South Korea, Australia, New Zealand, Great Britain, Germany, India and Scandanavia.
"Texas, California, Florida, Ohio and Michigan head the list in popularity for BBBuB&B and 'Girls' combined, based on a September 1 report by Jango Internet Radio, which is featuring the songs," notes the band's leader.
Ecker says there are now "two little music videos on YouTube with cute cartoon characters running around both," for the two songs that can easily be accessed by typing in the respective complete titles in the search box.
The "Bushwacked (Bewildered, Beat-up Bad and Broke)" album is available through all major music download services around the world. Additionally, the album can be accessed through Spotify in North America and Europe.
###