Seon Design Introduces the Super Tough Outdoor CA Wedge Camera for Mobile Applications
Deploy the industry-leading outdoor CA Wedge with confidence. The world's #1 mobile surveillance systems supplier*, Seon Design, delivers an industry-leading exterior camera for mobile applications.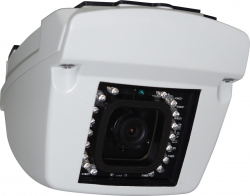 Coquitlam, Canada, September 08, 2011 --(
PR.com
)-- Receive clear bus-exterior video in all weather conditions. Seon Design Inc.'s premium 650 TVL resolution outdoor camera offers versatility and durability in a robust IP67-rated housing. The innovative CA Wedge camera conquers rain and high-power pressure washing thanks to an envelope designed to withstand extreme weather and prevent condensation.
With an imager that can rotate 350 degrees, mount the CA Wedge at any angle and end up with a horizontal picture – the camera is fully adjustable to increase the range of viewing angles. The CA Wedge supports lenses from 2.9 to 3.6 mm for wide-angle door-entry applications, and 16 to 25 mm lenses for identifying stop-arm violation vehicles. The CA Wedge provides color imaging in normal lighting, and automatically switches to black and white in low-lighting conditions. The camera's performance in low-light conditions is outstanding. Models with the optional infrared illumination deliver clear images up to 40 feet (13 meters) away in complete darkness.
"No other mobile outdoor camera in the industry delivers the combination of features offered by Seon's CA Wedge Series." – Ian Radziejewski, President, Seon Design Inc.
Benefits:
• A high resolution 650 TVL day/night sensor for sharp images day and night.
• A variety of lens: 2.9, 3.6, 6.0, 16.0, and 25.0 mm for wide-angle to telephoto coverage.
• Anti-glare protection and scratch-resistant window.
• A rugged, weatherproof metal housing to increase vandal-resistance for external vehicle surveillance applications.
• Optional Infrared illumination with adjustable intensity for improved night vision.
• Local video-out for quick setup and viewing of the camera.
• A 360° rotating gimbal to support vertical and angular mounting.
For more information about the CA Wedge or Seon Design Inc., visit www.seon.com, or contact:
Kara Cunningham
Marketing Communications Manager
Toll-Free: 1.877.630.7366
Email: kara.cunningham@seon.com
About Seon Design Inc.
Incorporated in 1999, Seon Design Inc. is ranked as the world's #1 supplier of mobile video surveillance for the bus and coach industry.* As a privately-owned company based in North America, Seon employs its own team of highly qualified electronics and mechanical engineers, and assembles superior quality end-products in its 36,000 square feet manufacturing facility. Seon invests millions of dollars every year in product research and development, ensuring that we meet our client's present and future needs. With a growing team of dedicated professionals, Seon is posi­tioned to continue its double-digit growth rate through the introduction of leading-edge, new technologies in 2011.
*The World Market for Mobile Video Surveillance Equipment, IMS Research, 2007, 2009. This independent UK-based report is published every two years.
###
Contact
Seon Design Inc.
Kara Cunningham
604.941.0880
www.seon.com

Contact