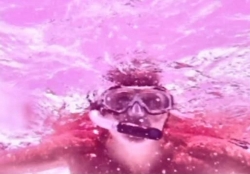 Columbus, OH, September 12, 2011 --(
PR.com
)-- "Man Boobs" dangle from numerous causes, like obesity, genetics, hormones as well as from a surplus of muscle developed by guys who did countless pushups and bench presses, as young men.
These workout caused Man Boobs, often formed after their owner's elbows or shoulders can no longer take all the elbow compression so they stop doing them and their built up pecks quit defying gravity.
According to Craig Wise, the engineer who creates sports and fitness devices for people with hindered mobility called Body Oars, "Drooping Man Boobs can get a big lift from a No Compression exercise we call the Man Boob Lifter.
"However the Man Boob lifter requires highly specialized fitness equipment, a snorkel and dive mask."
Wise added "I bought my first set at the Dollar Store, I mean the snorkel and mask, not my Man Boobs."
The Man Boob lifter exercise is just one of about 40 new "Extreme Muscle Exertion without Compression Exercises" Wise has edited into a new series of video classes he calls "Bodybuilding in Water."
The clips are simply edited from footage Wise accumulated while spending eleven years developing hundreds of compression free exercises and fitness devices.
Most of the clips, much like many of his hand made fitness devices, look a bit crude as they were never meant for the public to see, but Wise says these compression free exercises work almost instant wonders for people who cannot do traditional exercises, so he felt that he had to share them with the world.
The classes are free and linked from the home page at bodyoars.com.
You can also Google "Bodybuilding in Water" and click "Videos" on the right, and these classes should float to the top. Or just click the link below.
Man Boobs are normally a "hands off" subject and Wise may have neglected sensitivity in favor of a few chuckles, however he claims that the biggest mistake guys make for lifting their "Manary Cans" (not Mammary Glands) is they try to strengthen them directly with more joint loading, which may work in the short run but it actually makes them larger in the long run.
He found that by tightening the muscles above the boobies they lift, and is actually easy and painless to do with a snorkel. He says it is so efficient this only takes about 1 minute per workout, as long as the user does not allow their elbows to bend at all.
Wise posted a 45 second video clip taken from his painless Body Building in Water series and called it the "Man Boob Lifter." If it is not linked directly to this news release then you can also find the Man Boob Lifter video linked from the home page of bodyoars.com.
Here is a link to the Man Boob Lifter video Clip
Wise asks that you should not assume that Body Building in Water is anything like swimming or Water Aerobics.
"Bodybuilding in Water requires full range traction, isometric tension, stabilization or isolation just to allow large muscles to fully exert in water, and none of these properties are present in swimming or water aerobics."
He also explained that both swimming and water aerobics are far better for cardio exercise than any dry method where body weight is also fully supported by the legs.
"For every ounce of body weight that the leg bones must support, one less ounce of potential muscle effort can be exerted into them. If the cardio also collects impacts at the feet, then G forces cause the body weight to be 2 - 4 times heaver."
Wise pointed out that by removing the smashing grinding and impacting of joints and vertebrae (compression) even little old ladies who use walkers can rapidly become strong and fit.
Wise says that his Man Boob Lifter should also work fine for ladies, but that he wants to do some thorough research on this subject before he makes that claim.
In conclusion he is confident that "Anybody can learn enough to painlessly and rapidly body build from these videos posted at bodyoars.com."
To see what the rest of the world says about his Body Oars inventions, web search "World's greatest fitness device."
###