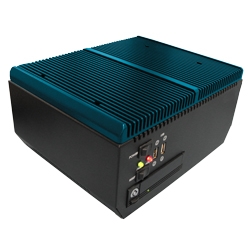 Christiansburg, VA, September 13, 2011 --(
PR.com
)-- CCS-Inc. introduced the ADDAX-i Fanless Workstation today at the IEEE AUTOTESTCON 2011 trade show, filling a gap in the embedded computer marketplace – the high-end fanless segment.
Built on Intel® Core™ i5/i7 technology with up to 8 GB RAM, the ADDAX-i offers workstation class performance in a rugged and compact chassis. It is ideal for harsh industrial environments where extreme temperatures, air particulates, and vibration can wreak havoc on standard commercial computers, as well as tight spaces too small for these systems.
Fanless computers are frequently specified for their durability and enhanced reliability. With few or no moving parts, they are less susceptible to mechanical failure. Traditionally they are relegated to more basic computing roles because, as processing capabilities increase, the heat produced becomes more and more difficult to manage without forced airflow. The engineering team at CCS-Inc. addressed this limitation in the high-performance ADDAX-i by designing a specialized heat dissipation system. The unit is rated to operate in temperatures ranging from 0 to 55 degrees Celsius.
Numerous product options allow the ADDAX-i to be optimized for its particular function. The two storage drive bays can be equipped with two hard disk drives for maximum storage, dual solid-state drives in a RAID 0 configuration for maximum speed, or a pair of removable solid-state drives in a mirrored RAID 1 setup for extreme reliability. PCI, PCI-e, and MiniPCI-e expansion slots are also available for various I/O requirements.
The ADDAX-I Fanless Workstation is available now. For more information, please visit
www.ccs-inc.com/portfolio/computers-profile/addax-i
or contact the CCS Team for help determining the most suitable feature set.
About CCS-Inc.
Located in Christiansburg, VA, CCS-Inc. offers a wide range of industrial computer, enclosure, and networking solutions for harsh environments and mission-critical applications. Solutions include industrial rackmount, node, fanless, and panel PCs as well as NEMA-rated computer and printer enclosures and integrated network racks. To learn more, visit www.ccs-inc.com.
###