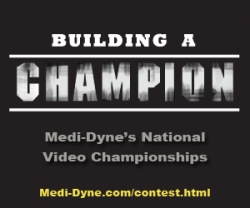 Colleyville, TX, September 19, 2011 --(
PR.com
)-- Medi-Dyne Healthcare Products today announced the launch of "
Building A Champion" Medi-Dyne National Video Championships
", a contest designed to both promote two new items launched by Medi-Dyne and to offset the budget cuts felt by schools' athletic and athletic training budgets.
The Building a Champion - Medi-Dyne National Video Championships is open to anyone who wishes to give back to their school or their child's school. While participants must be affiliated with an athletic department or athletic training program at an academic institution (high school, college or university) in the United States this can include students, faculty, or family members.
"School budgets across the country have seen significant cuts. Over the course of the year athletic trainers have expressed to us their concern about being able to provide an adequate level of care to their student athletes. We decided to try to do something about that," stated Craig DiGiovanni, Vice President Sales & Marketing, Medi-Dyne Healthcare Products. "We saw the video contest as a fun and upbeat way to make a difficult situation better."
Video submissions will be accepted via the
Medi-Dyne Facebook page
beginning September 20, 2011 through October 21, 2011. Voting begins on October 22, 2011 and runs through October 31, 2011. Participants are encouraged to get everyone involved in the voting as it is the video with the most votes that will win $2,500 for their school. Additional prizes, including $1,000 for 2nd place, $500 for 3rd place as well as special prizes early entrants, top referrers and randomly drawn winners will be awarded. Official contest rules can be found at
www.Medi-Dyne.com/contest.html
.
Video submissions must include either Medi-Dyne's new
ProStretch Plus
and/or
Range Roller
products.
###