Emmy Nominees Attend Secret Room Events Red Carpet Style Lounge Benefiting the Humane Society of the United States
Secret Room Events held its annual Red Carpet Style Lounge honoring the 2011 Emmy Awards nominees and presenters on September 15th at the L'Ermitage Hotel in Beverly Hills.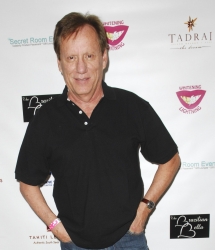 Beverly Hills, CA, September 20, 2011 --(
PR.com
)-- Sponsors lucky enough to be a part of this event were able to rub elbows with televisions biggest celebrities including Emmy nominees Elizabeth McGovern, Margo Martindale and James Woods. Some of the celebrities who received fabulous gifts and an amazing VIP gift basket include Ed O'Neil (Modern Family), Betty White (Hot In Cleveland) Amy Poehler (Parks and Recreation), Diane Lane (Cinema Verite), Steve Carell (The Office), Edie Falco (Nurse Jackie), Christina Hendricks (Mad Men), Jon Cryer (Two and a Half Men) and Sofia Vergara (Modern Family) Brandon Eaton (Dexter), Aubry Fisher (Inked), Tony Hale (Arrested Development), Samantha Harris (Entertainment Tonight), Eva La Rue (CSI Miami), Shanna Collins (Cinema Verite), Melissa Joan Hart (Melissa and Joey), Anthony Anderson (Transformers, The Departed) Ariel Winter (Modern Family), Betsy Brandt (Breaking Bad), Fiona Gubelmann (Wilfred), Carolyn Hennesy (General Hospital), Aaron Hill (Mad Men), Kelly Hu (Hawaii Five O), Keith Powell (30 Rock), Jason Ritter (Parenthood), Eric Martsolf (Days of Our Lives), Heather Morris (Glee), Pat O'Brien (Fox Sports), Christina and Courtney Robinson (Dexter), Erin Sanders (Big Time Rush), Grant Show (Melrose Place), Serinda Swan (Breakout Kings), Vienna Giradri (The Bachelor), Aimee Teegarden (Friday Night Lights), Emmanuelle Vaugier (CSI Miami), Patrick J Adams (Suits), Preston Bailey (Dexter), Camila Banus (Days of Our Lives), Grant Bowler (True Blood), Lorraine Bracco (Sopranos), Creed Bratton (The Office), Chad Coleman (I Hate My Teenage Daughter), Olivia Crocicchia (Rescue Me), Audrey Emmons (Modern Family), Harvey Guillen (Huge), Brea Grant (Dexter), Bren Foster (Days of Our Lives), Willa Ford (Magic City), William Garson (Sex in the City), Sammi Hanratty (The Greening of Whitney Brown), Kelly Heyer (Raising Hope), Kym Johnson (Dancing With The Stars), Nick Cannon (Americas Got Talent), Emily Lind (Revenge), Beverly Mitchell, Caity Lotz (Death Valley), Benito Martinez (24), Callan McAuliffe (The Great Gatsby), Aedin Mincks (New Gir), Mathew Moy (2 Broke Girls), Ryan Ochoa (Pair Of Kings), Grace Phipps (Nine Lives of Chloe King), Erin Sanders (Big Time Rush), Brad Sherwood (Whose Line Is It Anyway) Antwon Tanner (One Tree Hill), Molly Tarlov (Awkward), Leon Thomas (Victorious), Travis Winfrey (Single Ladies), Camilla Luddington (William and Kate), producer/director Penny Marshall, Morgan Fairchild, Estella Warren, Tippi Hedren, Michael Madsen, Terrell Owens, Leslie Ann Warren and numerous others.
Celebrity guests received a bevy of products and services including luxury trips and airfare to a 5 star Fiji resort, skincare, shoes, handbags, electronics, jewelry, apparel and much more. Sponsor companies that were hand picked to participate in the Secret Room Events Red Carpet Style Lounge include Tahiti Legends, Tadrai Hotel, Air Pacific, The Brazilian Bella, Whitening Lightning, Advanced Home Actives, My Dream Bag / Carrie Ella Designs, Puma, Gregory Mikaelian and Sons, Inc., Rococo Fine Foods Inc., thinkThin, Lotty Dotty, Kiss Products, Inc., Clear Conscience Pet, Jenny Clip, Amaloa, Bogace Jeans, D'eonli Designs, Dermaesthetics Beverly Hills Formula Inc., Herbal Answers, Inc, Chocolat Skin Care, Kelly Hong Dental Corporation, Crypton, Emtage Hair, Toby and Max Jewelry, Bangkok Dermatology Center Co, Ltd., Clairvoyant Beauty, Found Animals Foundation, Basic Books, Buddy Meals Int'l Inc., Making It More, Arm Pocket Enterprises, Growing Through The Arts By Aleksandra, Caribbean Living Magazine, Loudmouth Golf, Sweet Petunia Clothing, Discreet Green Services, LLC., Fanny Wang Headphone Co., Paradiza Swimwear, Thorlo, Inc., Miss Jessies, Sasha Eillenna Pellow Jewelry, Bunches and Bunches, Pajama Sutra, Gelaskins, Fitlips, Luna Bar, Hepp's Salt Barrel, CA Botana Int., Lanskin.com, Bella Mira Essential Oils, Quincy Bioscience, Blackstone, Cliff Bar, Kozmo Pets, Rachel Tribble, Chaacoca, Bella Una, Neolia, Justins Nut Butter, Candace Kelly, Good4You, Maui Maid Teriyaki Marinade, Herff Christiansen, Revision Skincare, Alaska Mist, Green and Blacks, Pet Head, Blue Ridge Gypsy, Shop NBC (Valuevision Media), Martin's Marvelous Naturals, Kraft Foods/Mio, Eucalyptus Clothing, POSHAQ, Krickette, Ever, Vaseline, Oneoneonezero and Fytofontana Cosmeceuticals/Z-Distribution.
Gourmet food and cocktails were provided to the guests courtesy of Vuqo, Ocean Bar Service, Six Rivers Brewery, Castle Brands, Sweetsies Bakery, One Coconut Water, The Comfort Gourmet and Immaculate Confections.
Secret Room Events Red Carpet Style Lounge celebrity guests showed their support for the Humane Society of the United States by signing posters, taking pictures and giving donations. Secret Room Events donated two VIP gift bags to the Humane Society of the United States to be auctioned off with proceeds going to the organization.
For more information on sponsorship for an upcoming event, please contact Amy Boatwright : amy@secretroomevents.com
###
Contact
Secret Room Events
Tami James
310-890-0000
www.secretroomevents.com

Contact