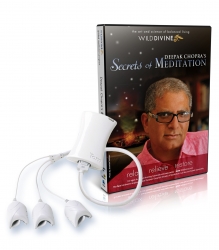 Las Vegas, NV, September 27, 2011 --(
PR.com
)-- Wild Divine, an innovator of relaxation training products, announced today the release of its newest software title, Deepak Chopra's Secrets of Meditation. Using Wild Divine's unique "Active Feedback" system, Secrets of Meditation features exercises that teach you how to relax and more fully enjoy the benefits of improved meditation.
"If you've been looking for a way to quickly get your meditation practice to the next level, naturally relieving the feelings of stress and anxiety and improving your focus, you'll enjoy what this amazing program has to offer, from its incredible visuals; to the relaxing music; to the insightful messages on the secrets of a body in harmony," said Kyle Widner, president and CEO, Wild Divine. "But most importantly you'll enjoy being guided by the master of meditation himself, Dr. Deepak Chopra."
The Wild Divine Software Platform and its interface, the IOM, is the world's Only "Active Feedback" system, allowing users to take part in interactive audio-visual presentations. Active Feedback picks up the physiological energy of your body through the IOM, a painless interface that attaches to three of your fingers. With expert guidance, you learn to concentrate your mind and body on clearly laid out interactive exercises, to achieve an elevated state of mental control through relaxation. As you sit motionless, using only the power of your mind, you'll actually control elements onscreen. Watch this video to learn more:
www.secretsofmeditationlaunch.com/learnmore
. You can sign up for the free Deepak Chopra video series at www.secretsofmeditationlaunch.com.
Within the Secrets of Meditation, Dr. Chopra unveils highly effective techniques previously achievable only through years of practice, now rapidly attainable though the use of Active Feedback. "I have teamed up with Kyle Widner and Wild Divine to create an interactive software training program called Deepak Chopra's Secrets of Meditation," said Dr. Deepak Chopra. "What is unique and exciting about this program is the IOM sensor feedback technology. About the size of an iPod, it combines with software on your computer to give you instant feedback on the changes in the level of stress, tension, or relaxation in your body."
"Our system enables you to witness and then transform how your body responds to laughter, deep breathing, and guided meditation. For many, this feedback can provide the critical connection they need to improve their meditation practice. No matter what your present level of meditational mastery, I am certain you will find that Secrets of Meditation can enhance it," added Widner.
Deepak Chopra's Secrets of Meditation features 20 full length guided practice videos and 10 inspirational videos. Each lesson is augmented by exercises that utilize Wild Divine's IOM hardware which connects via a standard USB port (and is purchased separately from the software). The IOM sensor measures skin conductivity, heart rate and breathing rate. The software runs on both PC and Mac systems.
About Wild Divine
Founded in 2001, Wild Divine is a pioneer in the emerging lifestyle technology market. The company is committed to designing and developing unique whole-body relaxation training programs that help people reduce feelings of stress and live happier and more balanced lives. The Wild Divine Software Platform and its interface, the IOM, is the world's Only "Active Feedback" system - one of the most revolutionary product platforms to come out to assist us in understanding and exploring the mind-body-spirit connection. Wild Divine's relaxation training products artfully combine state of the art technology with beautiful visuals, soothing sounds and effective meditation and breathing techniques to help you uncover your body's natural ability to counter the effects of stressful situations, increase your energy level, restore balance and improve your ability to connect to the world around you in profound ways. For more information, please visit www.wilddivine.com.
###