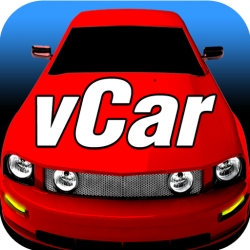 Cortlandt Manor, NY, September 27, 2011 --(
PR.com
)-- RC vCar is a virtual remote control car. Using Augmented Reality technology, the PCS team has put a virtual rc car on the floor (or a desk) for users to control. The speed and steering sliders on the screen control the car. The app includes 8 cars, working headlights, engine sounds, and a horn.
"The biggest criticism of RC vCar was that it wasn't a 'game'," said John Barnhart, software developer at PCS. "So, in version 2, we've added gameplay to the app, and bacon."
Players have to collect five coins to progress up levels in the game. There are other stacks of coins to collect, which aren't required, but do increase your score. As the levels progress, obstacles are dropped into the world, which block access to the coins. All this time the car is burning gas. You get rewarded with a little gas at each level, but there are also gas cans to collect. The game continues until the car runs out of gas. Players can then post their score to their Facebook page.
In a quirky twist, players can also collect rashers of bacon that are lying around the game world. According to Barnhart. "Everything's better with bacon. So, we added bacon for a smokier, crisper, game. We think it's the highlight of the app."
RC vCar is available on the App Store at: http://itunes.apple.com/us/app/rc-vcar/id438520240?ls=1&mt=8 or visit http://www.popculturesoft.com/vcar.html
Check out the video at http://youtu.be/OLbnDTl5_Co
###