Best Vacuum Cleaners Under $200: New List Published
With so many different vacuum cleaners on the market, finding the best one is a tough job. Today Vacuum Cleaner Advisor has published a list of the Best Vacuum Cleaners for Under $200 to help buyers make the right choice.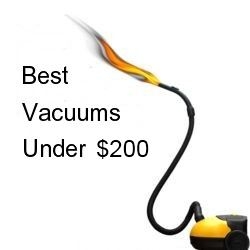 Los Angeles, CA, September 29, 2011 --(
PR.com
)-- Consumers are always looking for great buys. As a result, Vacuum Cleaner Advisor's recent list of best vacuums under $100 proved very popular. Adding to this success they have now released a new list to capture machines that are slightly more expensive, but have more features, better ratings and longer warranties. Many of the models that made the cut on the "Best Vacuum Cleaners under $200" list may surprise people.
Manufacturers in the new list include Panasonic, Eureka and Euro-Pro. The top 5 models are the Eureka Airspeed Gold, the Euro-Pro Navigator, the Euro-Pro Shark Navigator Lift Away, the Panasonic MC-CG902, and the Panasonic MC-UL915. All of these except the MC-UL915 are uprights.
The most affordable unit is the Airspeed Gold bagless upright vacuum by Eureka. This vacuum cleaner can be found online for just over $100 at a number of retailers. Consumers like its powerful suction, easy-to-empty dirt canister and 32-foot-long power cord. The filters on this unit do require frequent cleaning to keep the suction strong; however, HEPA filtration, a number of useful attachments and a 2-year warranty appear to be keeping owners very happy.
The Euro-Pro company originated in Europe but now operates out of Newton, Massachusetts. The group has been manufacturing home appliances for over a century and their Navigator vacuum models have been a big hit with consumers. The
Shark Navigator
(model NV22) carries an impressive 5-year warranty and does pretty much everything well. It comes with an easy-to-empty canister, washable filters, HEPA filtration, strong suction and a brushbar that can be turned on and off for both carpet and bare floor cleaning. It is also not too expensive, retailing at about $120 in some outlets. Its more recent cousin - the Shark Navigator Lift Away (model NV350) - is every bit as good and is also very lightweight at only 12.8 lbs. Both units are bagless uprights.
Rounding out the list are two vacuums by Panasonic: the MC-CG902 and the MC-UL915. The MC-CG902 is a bagged canister model with a motorized brushbar in the vacuum nozzle. This vacuum comes with a number of tools and attachments, including two chrome wands, a crevice tool, a dusting brush, a floor brush and an upholstery brush. Consumer ratings for this machine are very good even though it only carries a 1-year parts and labor warranty.
Panasonic's MC-UL915 is a bagless upright vacuum that is jam-packed with extra features. Besides the usual bells and whistles, this machine also sports a headlight, a pet hair turbine brush, automatic nozzle height adjustment and a dirt sensor. The dirt sensor displays a red light when its infrared beam detects a large amount of dirt particles being picked up by the vacuum. The light turns to green when the dirt level drops off. Far from just being just a gimmick, many owners report really liking this feature. The MC-UL915 can usually be found for just under $200.
See the list of Best Vacuum Cleaners under $200 at vacuum-cleaner-advisor.com and read reviews on each and every machine. Vacuum Cleaner Advisor provides a range of
best vacuum cleaner
lists as well as unbiased vacuum cleaner reviews and ratings.
Contact
Vacuum Cleaner Advisor
Emily Choulasco
206-196-1762
vacuum-cleaner-advisor.com

Contact