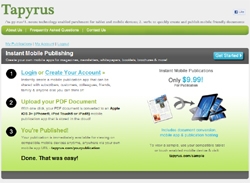 Las Vegas, NV, October 01, 2011 --(
PR.com
)-- Tapyrus Instant Mobile Publishing (tapyrus.com), an online service provided by Digital Media Global, LLC, is breaking new ground in the world of mobile applications and e-publishing. Tapyrus Instant Mobile Publishing was created to give businesses and individuals the ability to instantly create their own touch enabled mobile publication app.
The goal of Tapyrus was to take a simple idea and make it simpler — to make it unbelievably easy and convenient for anyone to turn a publication or document into a mobile application. The result is a cloud-based service that instantly converts PDF documents into mobile-friendly publication apps that can be shared and viewed by customers, colleagues, family, friends, and more from the cloud anytime, anywhere from a tablet or touch enabled phone.
This unique service combines dynamic web functionality with mobile device capabilities creating a compelling online service. Tapyrus provides users with a traditional website (tapyrus.com) for creating and managing mobile publications while also providing each publication with a unique mobile app URL (example: tapyrus.com/yourpublication). This URL is used for launching the publication from the mobile device. The process is extremely simple – 1) Create a publication via the Tapyrus.com website; 2) Point the mobile device web browser to the URL; 3) Add it to the device's home screen - the publication is now an app on the mobile device.
The business and personal options are limitless as anything can be converted into a mobile publication app – a magazine, newsletter, whitepaper, brochure, employee directory, sales & marketing material, children sport schedules, etc. The service intends to mobilize documents and publications that are chained to desktop and laptop computers by making the information people need most only one click away. In addition, Tapyrus provides content publishers with instant mobile distribution capabilities.
For more information, please visit:
http://www.tapyrus.com
Tapyrus mobile applications are currently compatible with all Apple mobile devices – iPad, iPhone, and iTouch/iPod. Google Android and Blackberry support will be available shortly.
###