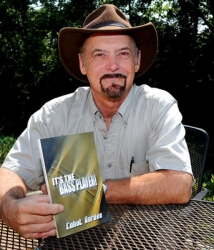 Talladega, AL, October 09, 2011 --(
PR.com
)-- Tales of making it in the music biz by Jim Smothers - The Daily Home
Sylacauga artist and songwriter Cabot Barden plans to hold a book signing Saturday, October 15, 1-4 p.m. at the Book Nook on Broadway in Sylacauga for his first book, "It's the Bass Player."
It's the partly true story of a younger Barden and his bandmates and their experiences playing music at frat parties, bars, anywhere they could get a gig, about growing up and trying to make it in the music business.
There will also be songwriters from the local chapter of the Nashville Songwriters Association performing at the store during the book-signing to complement the theme of the book.
Cabot calls the book a work of fiction based on real events that he and fellow band members experienced when they played in the band Common Faith in 1971-72.
Barden dedicated the book to his friend Charlie Gamble, who has Alzheimers.
Barden has played with bands most of his teenage and adult life.
His bands have opened for Mickey Gilley, Emmylou Harris, the Georgia Satelites, Jan and Dean, Don Henley and many others.
He has also worked in recording studios in Nashville and with some of the best musicians there.
Barden released a recorded "If I Didn't Love You" in 1976 with Frank Lister with a band they called "Alabama," before the group from Fort Payne used the name.
When Barden and his band members took the record around to radio stations trying to get it played, many of the DJs told them that "with a name like that, you'll never make it!"
Lister and Barden also co-wrote "It's More Than Just a Flag" that has gotten some radio time recently in Savannah, Georgia.
Barden wrote "The Quest" as part of the music offered for use in the movie "Sahara," based on the novel by Barden's friend Clive Cussler.
Barden's music didn't make the final cut for the movie, but "The Quest" did get some airtime in the U.S. and Italy.
Barden is currently a member of the Renegade Band based in Sylacauga.
Contact Jim Smothers at jsmothers@dailyhome.com.
###