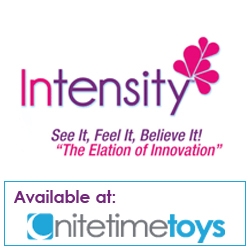 Cranston, RI, October 17, 2011 --(
PR.com
)-- NiteTimeToys.com (NTT), an online retailer of sexual health products, today announced that it has started taking pre-orders for "Intensity," a highly anticipated intimate stimulator for women that is slated to hit retailer's shelves this fall.
The device marks a collaborative effort between renowned intimate product manufacturer Jopen and the minds behind Pour Moi, a medically inspired sexual health and wellness company based in Wisconsin.
"We have been in this business for a long time, and we have never seen anything like it," said Alexa Goore, Special Projects Manager of NiteTimeToys.com. "Intensity is at the intersection of technology and sexual health... women who traditionally have had difficulty achieving orgasm have hailed it as a revolutionary device... and we can see why."
The device includes both vibration and electronic stimulation components, which work together to tone and exercise pelvic floor muscles in the female, leading to more achievable and powerful orgasms. It is expected that such effects will lead to much greater sexual experiences for single females as well as couples.
More information, as well as a video presentation is available at
www.NiteTimeToys.com
. Exclusive pre-order bundles which include $75 in bonus accessories are available for purchase while supplies last.
About NiteTimeToys.com:
Founded in 1999, NiteTimeToys.com has been providing men, women and couples in the United States and Canada, with a safe, discreet and secure online environment to purchase a wide variety of sexual health products. In addition to offering the lowest prices, NTT also strives to provide excellent customer service, which is evidenced by their customer reviews on Google.com, Shopzilla.com, Epinions.com and Bizrate.com. To learn more visit www.NiteTimeToys.com or call toll free (888) 968-8697.
###