ActForex Introduces Visual Algorithmic Trading
Breaking Technology Benefits Hundreds of Thousands of Non-Programming Traders Worldwide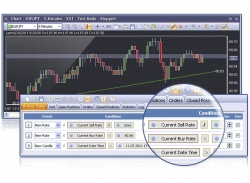 New York, NY, October 18, 2011 --(
PR.com
)-- ActForex, the leading provider of independent retail trading platforms, is pleased to introduce today its Visual Algorithmic Trading functionality, known as ActVAT,TM which is yet another innovative solution for the burgeoning algorithmic trading community.
In recent years, the advancement of online trading technology has led to unprecedented levels of automation and sophistication and today hundreds of billions of dollars are traded using various types of trading robots based on algorithmic strategies. Due to this demand for ever better automated trading tools, ActForex created its own programming language, ActFX, to work with its globally used ActTrader platform. Although tens of thousands of traders have been using ActFX to program their own strategies, until now, non-programmers were left without the ability to employ such algorithmic trading because of the complexity of learning and using computer programming code.
ActVAT allows traders to create their own algorithmic strategies using visual elements from any chart such as indicators, chart patterns, trend lines, utilize current rates, pre-set price levels and timers. Once programmed, ActVAT can open or close positions, create and remove entry, stop, and limit orders, and execute many other possible actions. Statistical and graphical data allows the user to monitor and fine-tune the strategy's performance.
"Trading with automated robots is not entirely new but being able to build automated strategies without using a programming language certainly is," said ActForex CEO, Ilya Sorokin. "Due to how intuitive it is to use ActVAT, traders can now create their own custom strategies directly from the visuals of charts without having to write a single line of computer code. This is a huge step forward for millions of traders that had to either hire a programmer or forgo the algorithmic trading revolution altogether."
ActVAT is not only for Forex but can also be used with any financial instrument offered by ActForex licensees. The principles of technical and fundamental analyses are universal and any trader with a good understanding of the markets can now develop algorithms that will assist in trading, generate trading signals, or completely automate trading activity.
About ActForex, Inc:
ActForex, Inc. has been providing leading-edge trading technology solutions for a multitude of FCMs, Forex Brokers, Broker/Dealers, Introducing Brokers and Money Managers worldwide since 2000.
ActTrader, ActFX, ActVAT, and the ActForex logo are trademarks of ActForex, Inc. ActForex is a registered trademark of ActForex, Inc.
###
Contact
ActForex, Inc
David Boyer, Senior Vice President, Business Affairs
212-425-7111
www.actforex.com

Contact