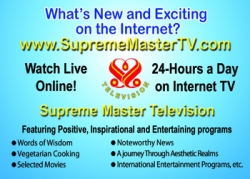 Los Angeles, CA, April 18, 2007 --(
PR.com
)-- The Supreme Master Ching Hai International Association, organizer of humanitarian and disaster relief efforts, has launched a new television channel, Supreme Master Television. Available worldwide 24-hours on the Internet, Supreme Master Television airs only positive and inspirational programming for a better world.
First appearing on satellite stations throughout Europe in September 2006, Supreme Master Television is now available to international audiences online at
http://www.suprememastertv.com
, with subtitles in several languages for all of its shows. Supreme Master Television's global coverage promotes peace and understanding among countries, loving treatment of animals, and proper care of the planet.
TV highlights include a news segment called "Noteworthy News", which reports up-do-date positive news from around the globe. "Animal World" features educative segments on man's earthly co-inhabitants, with emphasis on loving and caring for them. In addition, "Vegetarianism: A Noble Way of Living" promotes a healthy, cruelty-free lifestyle by offering vegetarian cooking lessons. For a taste of the arts, "A Journey through Aesthetic Realms" spotlights vibrant performances from cultures around the world while "Cinema Scene" reviews recent and classic inspirational movies.
To elevate the soul and nourish the spirit, viewers can tune in to lectures from the spiritual leader and renowned humanitarian Supreme Master Ching Hai in episodes of "Words of Wisdom" and "Between Master & Disciples". Various other shows feature inspiring documentaries and interviews with celebrities, such as John Robbins, author of Diet for a New World, and Slovenian President Dr. Janez Drnovšek.
Supreme Master Television invites viewers to submit positive news and inspiring stories from their corner of the world. By sharing good news, Supreme Master Television aims to uplift the human spirit and encourage more noble acts to create a better world for both man and animal.
About the Supreme Master Ching Hai International Association
The Supreme Master Ching Hai International Association engages in humanitarian and disaster relief aid throughout the world. Their work is inspired by the noble teachings of the Supreme Master Ching Hai, a recent recipient of the Guzi Peace Prize. For more information, visit
http://www.godsdirectcontact.org
.
About Supreme Master Television
Supreme Master Television is a new satellite channel broadcasting 24 hours a day, 7 days a week over Europe and over the internet at
http://www.suprememastertv.com
.
###