RediHEAT Extends Warranty for Heated Pizza and Food Delivery Bags
RediHEAT, Inc, maker of durable and the most cost-effective heated food-delivery bags, now offers the industry's best warranty to support them.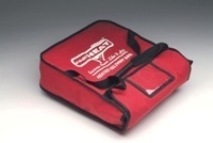 Cleveland, OH, November 16, 2011 --(
PR.com
)-- RediHEAT, Inc, maker of durable and the most cost-effective heated food-delivery bags, now offers the industry's best warranty to support them.
The Cleveland company sells insulated bags with an integrated heating element to keep pizza and other delivered foods hot to the customer's door. On Tuesday, RediHEAT President Dave Breen announced he would double the warranty period covering that heating element to two years – twice as long as the company's competitors.
RediHEAT can offer the 24-month warranty with full confidence because the heating elements are built to last, Breen said.
"The message we're sending to pizzerias and other delivery-based restaurants is that you can count on our products," Breen said.
For delivery-based restaurants, a customer whose food arrives cold is likely to be a customer lost forever. And in the age of social media, one disgruntled customer's complaint can spread over the Internet and influence dozens, hundreds or thousands of other potential customers. So RediHEAT offers a high-value solution that becomes a better investment with every satisfied diner's repeat order.
Its heavy-duty insulated bags include a USA-made polymer plate that heats up quickly when plugged in and will keep pizza hot for up to 40 minutes. The plate remains inside the bag during use, but easily slides out so that the bags can be cleaned.
RediHEAT's product lineup includes two-pie, five-pie and 10-pie
pizza delivery bags
, plus a 1.8-cubic-foot food-delivery bag – ideal for catering. The bags can be customized with a restaurant's or caterer's logo. Every bag and heating core is manufactured in Cleveland.
The heating element offers rock-solid reliability because it's based on simple but space-aged technology, Breen said. At its core are a series of high-tech ceramic discs, called PTC chips, that get hot under a low-wattage electrical load. The chips eliminate the need for fragile resistance-heat coils. They physically cannot overheat beyond their designed temperature limit, so the heating elements need none of the unreliable thermostats or fuses that make other delivery-bag heating elements prone to failure. And the RediHEAT bags need no expensive magnetic-induction surface to heat the internal element. The core simply plugs in.
PTC chips are widely used in immersion heaters and industrial applications, and are renowned for their durability, reliability and safety. RediHEAT partnered with two Cleveland-area firms – CWP Technologies and Quantalutions -- to research and develop the food-delivery-bag application.
About RediHEAT, Inc
Founded in 2003, RediHEAT is a Cleveland-based manufacturer of quality
heated food and pizza delivery bags
for restaurant and catering companies. Each thermal delivery bag includes the company's patented electric heating element which ensures your food will always be delivered hot. RediHEAT's delivery systems have been sold in over 30 countries on six continents. All of our heated delivery bags are made with pride in the USA.
Contact:
Dave Breen, President
RediHEAT, Inc
216-870-6302
http://www.rediheat.com
###
Contact
RediHEAT, Inc
Dave Breen
1-888-556-2024 x103
www.rediheat.com

Contact