The Science Behind a Top Workplace
Voted a Top 100 Workplace two years running, TransNational shares its secret to keeping employees challenged, engaged, and content.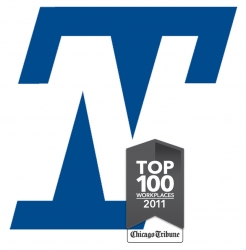 Rosemont, IL, November 17, 2011 --(
PR.com
)-- On November 15, The Chicago Tribune announced the Top 100 Workplaces in the Chicago-land area, naming TransNational Bankcard for a second year in a row. The list is comprised of companies whose employees completed a survey powered by Workplace Dynamics, of Pennsylvania.
When John Pitzaferro created TransNational in 1999, there was no expectation of receiving a reward for treating employees well. "It had never occurred to me to not have my employees in my best interest. They are the representatives of TransNational," said Pitzaferro, now CEO of TransNational. "If my employees aren't happy, we have a real problem!"
After working many years in sales, and seeing workplace travesties unfold, the math behind shaping a positive work environment became clear to Pitzaferro. He implemented a sales model at TransNational that gave people the opportunity to truly succeed. This system incorporated a higher commission rate and a residual program that could benefit an employee from deal one, and for years to come.
According to the survey, Pitzaferro and his executive team earn the trust and confidence of their employees, continually build supporting relationships within the company, and offer very competitive pay and benefits.
"I like TransNational because it is very team-oriented," explained Julie Luciano, an accounting clerk at TransNational. Luciano has been with the company for five years and praised the company's managers for their ability to provide constructive feedback. "They provide support and acknowledgement for the employees in day-to-day operations, and allow for upward mobility inside the company."
So, what is the secret behind making employees like Luciano happy? How has TransNational been able to rank in the top 15 small businesses for two consecutive years? "It's simple," said Jae Haas, president of TransNational. "We only hire the most qualified people, who have a genuine interest in building their career. Our goal as employers is to provide whatever support we can to help them achieve their goals." One might call it a true team dynamic.
"What's different about TransNational at its core," continued Haas, "Is, believe it or not, the ability of its employees to come together and work towards a common goal. We all want to see TransNational succeed, and we believe when our employees are happy, it shows in the quality of their work."
But why? In an industry that is renowned for price gauging, it can become challenging for a company to have a positive reputation. "It's all too familiar to me," said Pitzaferro. "I've been in a workplace where employees were way under paid, while the executives were gaining huge margins. It's not the way to treat people, especially your people."
TransNational's business model is simple: all employees operate under open-book pretenses; meaning honesty and integrity are their biggest virtues. It is Pitzaferro's goal to redefine the merchant processing industry into a positive light. "Maybe our company should have been called Beacon," joked Pitzaferro.
To read more of TransNational's employee testimonials, go to www.tnbci.com/careers.
About TransNational
A Chicago Tribune 2010 and 2011 Top 100 Chicago Workplace, TransNational is a Merchant Service Provider and Independent Sales Organization with corporate headquarters located in Rosemont, IL. Founded in 1999 to be an ethical and full disclosure option in the Bankcard Industry, TransNational has enjoyed strong growth over the past decade. Recognized by Rolling Meadows, its former corporate headquarters location, as the 2009 Business of the Year, TransNational also maintains an A+ rating with the Better Business Bureau, and is a four time BBB Torch Award nominee for Marketplace Ethics. Merchant Service Providers provide credit card processing and financial services to businesses. They are also known as Credit Card Acquirers.
Become part of the TransNational Bankcard team today! Contact Bob Miller (847) 655-1300 or visit www.tnbci.com for more information.
For More Information:
Kim Foster
Marketing Manager | TransNational Bankcard
9600 W. Bryn Mawr, 6th Floor
Rosemont, IL 60018
(847) 655-1300
kfoster@tnbci.com
www.tnbci.com
###
Contact
TransNational Bankcard
Kim Foster
847-655-1300
www.tnbci.com/ourcompany
www.tnbci.com

Contact