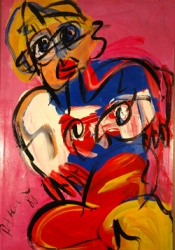 Orlando, FL, April 27, 2007 --(
PR.com
)-- HG Art and Framing Consultants and The Kessler Collection today announce a collaboration to promote the fine art of German artist Peter Keil. Together HG and the Grand Bohemian Gallery, a Kessler Collection Gallery, will make available 3,000 of Keil's works from his estate to retail and industry buyers. The lifeworks of the artist represent his varied styles over the last 60 years. The works will be available for purchase at www.keilcollection.com where industry buyers can login to purchase at wholesale prices.
Peter Keil is recognized worldwide for his unique method of putting on canvas not only harmonious forms, but discordant colors that in the hands of this modern master become pleasing to the beholder. Peter was born in Zullichau, Pomerania (now Poland) on August 6, 1942. At age 15, he began painting and creating art with the help of his first mentor, Otto Nagel. He apprenticed in Paris in a small studio close to the Palace de la Bastille. There he learned to keep his art free of nature's constraints, utilizing a dynamic and spontaneous brushwork technique that distanced him even further from classical realism.
Orlando-based hotel and real estate developer Richard C. Kessler, chairman and CEO of The Kessler Enterprise, Inc., has been collecting art for over 35 years. He displays his eclectic art collection throughout his luxury hotels. He was inspired by Keil's works and felt that his European and American landscapes, portrait, figurative and still life works would appeal to many art lovers. In 2004, Keil was chosen as the signature artist for the AAA Four-Diamond Mansion on Forsyth Park in Savannah, Georgia, a Kessler Collection property. Since that time, Mr. Kessler has been committed to collecting the artist's work for sale and display in his several of his Grand Bohemian Galleries.
Kessler's prior relationship with HG Art and Framing Consultants (HG provided framing services for the Grand Bohemian Gallery) led to the discussion of forming a partnership for the project. The new partnership was designed to further disseminate the artist's work in private and public collections throughout the United States. HG Art and Framing will utilize their experience in the art and design industry to market and sell the collection to private, corporate and public collections. Along with the new website, HG will also coordinate traveling exhibitions and a comprehensive catalog on the artist.
About Russell A. Glotfelty and HG Art and Framing Consultants -
HG Art and Framing Consultants is a wholesale art, custom framing and professional art consulting company with a reputation of leadership in the hospitality industry. For the past 2 decades Russell A Glotfelty has been responsible for art direction and sales development at HG Art and Framing Consultants. Russell is highly respected in the art and framing industry, serving on many major art publishers, mat board and moulding selection committees. He has been published in numerous interior design and art oriented publications as an industry expert and leader. Russell is a graduate with degrees in Art History and Business. He is currently a member of ASID, NEWH and PPFA.
About the Grand Bohemian Gallery -
The Grand Bohemian Galleries, a Kessler Collection Gallery, encompass prominent American and European art, including original works of art and photography by local, national and international artisans complemented by art glass, contemporary jewelry, and unique gift items. The Grand Bohemian Gallery is also located in the El Monte Sagrado Living Resort & Spa in Taos, NM; Beaver Creek Lodge, Beaver Creek, CO; Celebration Hotel, Celebration, FL; Sundy House, Delray Beach, FL; Kehoe House, Savannah, GA; and the Grand Bohemian Hotel and Residences in St. Petersburg, FL and Grand Bohemian Hotel, Atlanta, GA – both scheduled to open in 2009.
###
Editor's Note: Photos Available Upon Request