ClausKids.com Makes Christmas Magic with Hours of Online Fun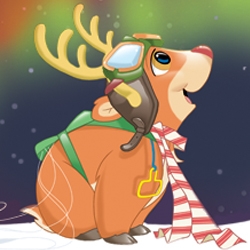 Atlanta, GA, November 29, 2011 --(
PR.com
)-- As the hustle and bustle of the holiday season is fully upon us, families are in search of an alternative to the chaotic department store crowds, and have found one in the form of the loveable, magical, wintry-wonderland world of ClausKids.com.
With worldwide economic uncertainties distracting us from the true meaning of the season, people everywhere look for relief from the high-priced holidays of the past. Realizing this, John Kurtz, co-founder and co-producer for ClausKids.com, and his colleagues have worked a tireless two years to bring you a colorful cast of characters accompanied by original music, animation, games, and more.
Like lightning in a bottle, Kurtz and his team captured the true essence of the Christmas season. With an annual subscription to ClausKids.com costing just $5, available instantly through online purchase via PayPal, Visa, MasterCard, American Express, and Discover, kids and their families can spend countless hours alongside their favorite North Pole pals. Offering something for everyone, they also boast dozens of free activities, puzzles, mazes, and holiday recipes.
To take a peak at their extensive Christmas content, visit ClausKids.com (
http://www.clauskids.com
)
Sebastian Kurtz, co-writer and co-producer for the project, stated, "The collection of talent on this project is unprecedented for a young company like ours. But we all had the same goal, and we stuck to it. We wanted to give families a budget-friendly way to spend the holidays together, and for $5, we do that. ClausKids.com has become what we always envisioned it would be, and I think people are starting to recognize that."
As it turns out, Kurtz is right. Already receiving critical accolades, ClausKids.com believes it is only a matter of time before they are widely recognized.
Collaborating with Kurtz on the ClausKids.com project, among others, is Jay Rodgers (JayRo Design), who provided art and layout design, has worked for Turner Broadcasting as the Art Director for Cartoon Network and has 14 years of industry experience, including art direction, marketing, advertising, and digital gaming). Rick Hinkle, Gold Record artists for his work on Pac Man Fever, and who has played with Chuck Berry, Joe South, Percy Sledge, Jackie Wilson, and The Platters, recorded and mixed all of the music, voices, and sound effects for The North Pole. Susan Bennet, who has performed with many world-class artists, including Burt Bacharach and Roy Orbison, lent her vocal talents to the voices of a number of characters, as well as the ClausKids.com theme song, "The Magic Door." Animation direction was performed by Jon Henshaw (Toonalooney Studios), who has worked for Cartoon Network, Adult Swim, Game Tap, TNT, and TBS.
Ever expanding, ClausKids.com offers a variety of products, including coloring, sticker, and activity books, published by Dover Publications, clothing featuring their original characters, "Don't Wake Up Grumpy" (an app developed for Apple and Android platforms, featuring our own original character, "Narwhal"), and "Christmas Belles" (an application developed for the iPad, featuring our own original characters, "The Christmas Belles").
New content will be added each day until Christmas, with "Letters from Santa," running from November 26th through December 25th, and the "Ornament of the Day," running from December 1st through December 25th.
Contact:
John Kurtz
Kurtz Art Studio
112 The Boulevard
Newnan, GA 30263
Phone. 404-435-3647
###
Contact
ClausKids
John Kurtz
404-435-3647
www.clauskids.com

Contact