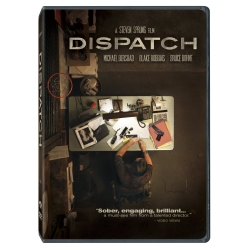 Los Angeles, CA, December 05, 2011 --(
PR.com
)-- Visionary Cinema Publicity is proud to announce the release of "Dispatch" on DVD on December 27, 2011. It can be pre-ordered now at Amazon.com by clicking here:
www.amazon.com/dp/B005SDUVEE/ref=tsm_1_fb_lk
Based on writer-star Bershad's personal experience, "Dispatch" finds Nick, a fallen Hollywood success, battling celebrities, publicists, and producers as he dispatches his chauffeurs to the big premiere. It soon becomes one of the most devastating nights of his life when, after being served with divorce papers, Nick makes decisions which place him in the greatest of personal and professional jeopardy.
Financed and produced independently, "Dispatch" was co-created by Sprung and Bershad who met while chauffeuring, spending two years writing the screenplay before principal photography commenced in downtown Los Angeles. Sprung, an Emmy® nominated film and television editor and director ("Entourage," "Community," "Happy Endings," "Arrested Development") shot "Dispatch" on the Red camera, then edited the film himself on AVID Media Composer.
"Dispatch" was an Official Selection in the 2011 Hollywood Film Festival and was awarded Best Overall Film at the 2011 OffShoot Film Festival. Monarch Home Entertainment is releasing "Dispatch" on DVD on December 27, 2011.
"Dispatch" is sure to entertain, intrigue and inform as it presents an Angeleno for whom everything sways in the balance on one crucial night in that city that holds such promise for so many.
Tech Info:
TRT: 84 Minutes
Aspect Ratio: 2.35:1
Sound Mix: 5.1 Surround
Cast:
"Nick" - Michael Bershad
"Harry" - Bruce Bohne
"Killer" - Blake Robbins
"Ace" - Tim Peper
"Oscar" - Harry Karp
"Lucia" - Melina Lizette
"Iceman" - Black Thomas
Crew:
Director: Steven Sprung
Written by: Michael Bershad & Steven Sprung
Producers: Michael Bershad, Angela Sostre
Editor: Steven Sprung, A.C.E.
Sound Designer: Andy Hay
Director of Photography: Mathew Rudenberg
Production Designer: Mariano Rueda
Costume Designer: Samantha Kuester
###