Author Critical of How HBO Portrays Mayor
In his new biography The Life & Times of Jersey City Mayor Frank Hague: "I Am the Law" (The History Press) author Leonard Vernon is highly critical of how former Jersey City mayor Frank Hague has been portrayed both in history and the media. Vernon is especially critical of the HBO series, Boardwalk Empire, the show that focuses on Prohibition era Atlantic City and how it portrays Hague.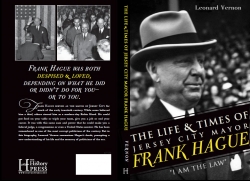 Jersey City, NJ, December 04, 2011 --(
PR.com
)-- The Life & Times of Jersey City Mayor Frank Hague includes far more material than previous works on Hague, including copies of Hague's FBI file which Vernon obtained under the Freedom of Information Act. These documents outline the extensive political war between Hague and Governor Charles Edison, the son of the famous inventor. The documents also appear to validate the belief that Hague was politically protected by FDR.
Vernon cites as an example of how Hague is treated unfairly the HBO series Boardwalk Empire. During one of the episodes Chris Mulkey the actor playing the role of Frank Hague appears on the scene. Hague and Nucky are sitting down together in a brothel, Hague with a prostitute on his lap and an alcoholic drink in his hand. Vernon points out that friend and foe alike would agree that this was a total mischaracterization of the man. Frank Hague did not drink alcohol nor was he a womanizer, and while his abstention from these vices may have been for moral reasons, practical political reasons no doubt also prevented such behavior. Hague suffered from a throat and digestive problem that prevented his drinking of alcohol, as far as women, Hague realized that his major support came from the Catholic Church and members of the church hierarchy, for Hague to be seen with a another women, especially a prostitute would have ruined his career.
In a true Horatio Alger story Vernon shows us a life that in some ways symbolizes the American dream: a boy from a poor neighborhood grows up to wield unimaginable power. It captures the grittiness of Hague's boyhood--the day-to-day of life near the factories and rail yards with its soot in the air and odors from nearby stockyards, the importance of ethnicity in local neighborhoods and the city's seemingly paradoxical combination of parochialism and diversity, dynamic growth and resistance to change. While bringing top flight medical care to Jersey City and affecting national politics, he was also held responsible for police brutality and trampling on civil rights.
The Life & Times of Jersey City Mayor Frank Hague shows politics at its deepest level, and each chapter brings new insights into a complex man and the system he created in order to rule the city that made him. The Life & Times of Jersey City Mayor Frank Hague has just been released and is number 1 on Amazon's Best Sellers in New Biography list. The book is available at most chain book stores such as Barnes & Noble or through Amazon.com at:
http://www.amazon.com/Times-Jersey-Mayor-Frank-Hague/dp/1609494687/ref=sr_1_1?s=books&ie=UTF8&qid=1322681150&sr=1-1
###
Contact
Leonard Vernon
609-230-3256

Contact