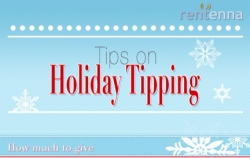 New York, NY, December 07, 2011 --(
PR.com
)-- With the holidays upon us, it's not only time for consumers to start thinking about gifts for their loved ones, but also to consider how they'll show appreciation for the many practically anonymous folks – doormen, building supers, mail carriers, baby sitters, newspaper boys – who have served them tirelessly throughout the year.
People can certainly aspire to get creative with their holiday tipping, but let's face it: no matter how great one's gift-giving ambitions, as December creeps on, laziness and a hectic schedule nearly always spell doom for any extraneous shopping plans.
Fortunately, cash is always an acceptable (and appreciated) answer to the holiday tipping question, but that still leaves a dilemma: how much to give and to whom?
To resolve this riddle once and for all, the analysts at apartment rentals review site Rentenna have just released their first-ever
"Tips on Holiday Tipping"
Infographic. The illustration breaks down average tip ranges for the most common service providers, with data sourced from locals, doormen-in-the-know, and NYC real estate survival expert Brick Underground's 2011 Holiday Tipping Guide.
Consumers can use Rentenna's "Tips on Tipping" guide as their gift giving cheat-sheet this winter season, taking the guesswork and stress out of the annual holiday tipping ritual. Embed code is also made available on the Rentenna blog for those who would like to share the Tips on Holiday Tipping guide on their site or blog.
About Rentenna: Founded in 2011, Rentenna.com offers an interactive apartment building scoring engine that analyzes thousands of data points to help renters quickly determine whether an
NYC apartment building
is somewhere they would want to live.
###