THINKSOUND™ Releases New In-Ear Monitor Headphone
THINKSOUND™ announces the release of the ms01 8mm in-ear monitor with a specially engineered frequency response.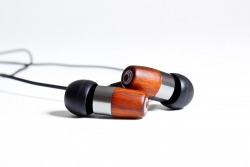 Somersworth, NH, December 14, 2011 --(
PR.com
)-- thinksound™ announces the release of the ms01 in-ear monitor with passive noise isolation, wooden housing, and an enhanced 8mm driver for more accurate sound.
After consulting with numerous musicians and record producers, thinksound is proud to announce the release of its ms01 in-ear monitor headphone. This new model has an engineered frequency response for detailed, accurate musical production. The ms01 features a small, enhanced 8mm speaker driver with upgraded acoustics for more accurate sound reproduction, while still offering deep bass extension and clear high frequencies.
"The ms01 is a new direction for thinksound," says Aaron Fournier, the company's President and CEO. "We consulted top producers and musicians about the sound they were looking for in an in-ear monitor. The ms01 is the result. It's the first headphone offered in our new monitor series, and is a step towards a more hi-fidelity sound signature."
The ms01 will be available in a beautiful gunmetal/chocolate finish and will include a set of Active Lifestyle Earhooks. Like all thinksound headphones, the ms01 will also include four different-sized silicon ear inserts to ensure a comfortable fit and a cotton carrying pouch that has room for an iPod, iPhone, and many other popular devices.
thinksound now offers five different headphone models; the new ms01 in-ear monitor, the ts02 in-ear 8mm high-definition headphone, the ts02+mic in-ear 8mm high-definition headphone with integrated microphone and call control; the rain in-ear 9mm high-definition headphone with passive noise isolation and the ts01 in-ear 10mm high-definition headphone with passive noise isolation and enhanced bass.
thinksound headphones are assembled primarily from renewable, recyclable resources like wood and aluminum, and feature PVC-free cables. The packaging is made from bleach-free recycled cardboard and eliminates the common plastic pieces normally associated with headphone packaging.
###
About thinksound™:
thinksound™ began with a simple goal; to create incredible sounding headphones with the smallest eco-footprint possible. thinksound™ headphones are made with real wood, creating a more natural resonance and unparalleled acoustics.
thinksound™ takes their environmental impact as seriously as they do their audio products. All packaging is crafted from recycled materials, with minimal plastic components, and all headphone models use PVC-free cables and wood from renewable sources. The result is great sound that you can feel good about.
thinksound™ was founded by audio and consumer electronics industry leaders with over 25 years experience bringing exceptional audio products to market. They invite you try their headphones to experience the difference that quality craftsmanship and better attention to detail make. thinksound™ is owned and operated by TIMBRE SOUND LLC.
For additional information please contact hello@thinksound.com or visit www.thinksound.com.
Contact
TIMBRE SOUND LLC dba thinksound
Aaron Fournier
603-617-4565
thinksound.com

Contact