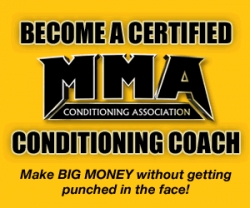 Rancho Santa Margarita, CA, January 03, 2012 --(
PR.com
)-- Both the surge in Facebook and mixed martial arts or MMA were major trends in 2011. To link those two passions, the Mixed Martial Arts Conditioning Association (MMACA) recently launched a new Facebook page at http://www.facebook.com/pages/MMA-Conditioning-Association-MMACA/148108331946791
The Facebook page offers fans the latest MMA news, polls and surveys, specials on various trainings, certifications and education as well as an opportunity for members to connect and converse.
"More than 95 percent of our mixed martial arts fans are already on Facebook, so this is the perfect place to interact, communicate and connect with them," said John Spencer Ellis, founder of the Mixed Martial Arts Conditioning Association. "We look forward to expanding this online group to include the latest and greatest in mixed martial arts news."
The MMACA continues to offer online training for those interested in developing the business and athletic skills required to coach MMA on its site at http://www.mixedmartialartsconditioningassociation.com/. The Facebook group serves as a complement to the online training and program information, allowing for easy updates and connections at http://www.facebook.com/pages/MMA-Conditioning-Association-MMACA/148108331946791
"We know that MMA fans are some of the most passionate in the fitness industry, so we wanted to create another opportunity for them to share their thoughts, success stories and latest news," Ellis added.
About MMACA
The Mixed Martial Arts Conditioning Association (MMACA) was developed to bridge the gap between sports conditioning science, MMA training methods and direct application from the ring, octagon, mat or cage. The MMA Conditioning Association is the MMA certification division of the National Exercise & Sports Trainers Association (NESTA), a leader in innovative solutions for fitness, nutrition and wellness professionals, as well as club owners since 1992. The MMACA and its staff of educators, exercise physiologists, dietitians, biomechanists, strength coaches, sports psychologists, physical therapists, massage therapists, kinesiologists and business professionals have joined with the world's top boxers, wrestlers, BJJ fighters, Muay Thai fighters, American kickboxers, MMA fighters and coaches to develop a comprehensive MMA conditioning program. For more information about the Mixed Martial Arts Conditioning Association or to view the new Facebook page, please visit
http://www.facebook.com/pages/MMA-Conditioning-Association-MMACA/148108331946791
###