10 Smart Health Resolutions for 2012
The 10 Smart Health Resolutions for 2012 are for those that are looking to improve their health and lifestyle by taking it one step further than just losing a couple of pounds and giving their bodies more of what they need and less of what they don't need. By simplifying food and beverage intake to include more whole food organic sources, and giving up empty purchases that give little in return, people can choose to invest in their health and develop a new appreciation of good tasting food.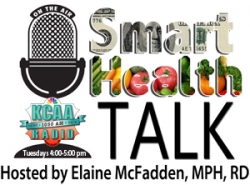 Loma Linda, CA, January 04, 2012 --(
PR.com
)-- Those wanting to change their lifestyle and get healthier in the coming year without having to give up everything they love or break the bank should tune in to Smart Health Talk this Thursday from 4:00-5:00 pm PST or Saturday from 8:00-9:00 pm PST for "10 Smart Health Resolutions for 2012."
Using these resolutions together with resources and podcasts of previous shows that can be found on the Smart Health Talk website make it easy for those looking for information and advice on how to "Get more nutrition bang for their buck."
We now know more than ever that what we eat can have a major impact on our risk for chronic disease. Most people want higher quality organic foods, but feel they can't afford them. Smart Health Talk hopes to change that way of thinking by showing people how they can have organic choices, add more nutrition to meals, and stay within their budget by making smarter choices on how to spend their food dollars.
The average person is unaware of all of the changes that have been happening to our food system. At no other time have more chemicals, pesticides, and genetically modified ingredients been found in food than today. Elaine McFadden, MPH, RD and host of Smart Health Talk sees the danger not just in the chemicals alone, but also in combining them together on a daily basis. "Even though chemicals added to foods can be classified as safe, cut back, caution, certain people should avoid, and Avoid, such as those published by the Center for Science in the Public Interest, we are now putting 'chemical cocktails' in our body that could have unforeseen effects on our short and long term health and risk for disease."
The first place most people notice the change that has happened in our food system is taste. They become motivated to seek out organic foods in an effort to rediscover the flavor in food they remember from 20 years ago when strawberries tasted like a strawberry, and peaches would be sweet and juicy and not pithy and dry. New parents are also highly motivated to seek out foods for their children that are free of chemicals, pesticides, and genetically modified ingredients that could have allergic or toxic effects. Children are in a group of the most vulnerable. Cautious parents are warranted to carefully choose which foods they feed their child since most chemical safety tests are measured for an adult male, not a child that eats more food per body weight.
Olga Kras, who is also a registered dietitian with a private consulting practice in Lake Forest, Illinois, will be joining Elaine McFadden on the show to help provide suggestions on how people can be successful incorporating these Smart Health Resolutions into their daily routines. She sees many people in her practice become overwhelmed with the scope of it all. "If they don't see or feel anticipated results in a short period of time they can end up abandoning everything and go back to what they have always done."
Elaine McFadden believes that, "It is difficult for people to grasp the fact that we can't just assume all food is safe, and that we now have to fight and make extra efforts to have those types of foods for our family. With government subsidies given for the primary ingredients in junk foods they look like a better bargain, but people need to look past that and understand the true cost of food. When our health is compromised and our environment is polluted, we need to ask what the true cost is to families and our country."
Smart Health Talk listeners become educated shoppers and "label detectives" that can identify "hidden ingredients" right at the point of purchase. They are encouraged to get back to the basics of whole food nutrition and easy meals that use quality ingredients and simple preparation techniques.
Anyone can tune into the Smart Health Talk radio show by just visiting the KCAA Radio website and clicking on the "Listen Live" button on the top left portion of the screen with full instructions under the "About Us" tab at the top of the webpage. Even if you miss the show you can listen to the Smart Health Talk podcasts 24/7 on the Smart Health Talk website or KCAA Radio website by finding Elaine McFadden's picture and clicking on the "podcast" button.
Download all past broadcasts and listen while you walk, work, or relax and you will become an educated consumer that "Gets more nutrition bang for you buck too."
###
Contact
Smart Health Talk
Elaine McFadden, MPH, RD
909-556-4460
www.smarthealthtalk.com
www.kcaaradio.com

Contact