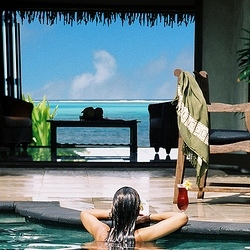 Rarotonga, Cook Islands, January 17, 2012 --(
PR.com
)-- Pacific Resort Aitutaki has been voted "World's Leading Boutique Island Resort" for the fourth consecutive year, while Te Manava Luxury Villas & Spa, Rarotonga has been voted "World's Leading Island Villas" for the second consecutive year.
Hailed as "The Oscars of the Travel Industry" by the Wall Street Journal, the World Travel Awards is recognised worldwide as the ultimate travel accolade. WTA 2011 nominations featured over 5,000 companies in 1,000 categories across 162 countries. The winners were selected by thousands of industry professionals and consumers worldwide who have been voting online.
Graham E. Cooke, President & Founder, World Travel Awards, underlined the remarkable resilience of the global travel and tourism business despite the challenges of the global recession.
He said: "It is during times of economic uncertainty that world-class brands come into their own, continuing to reinvent themselves and grow market share – traits all shared by tonight's World Travel Award winners."
Pacific Resort Hotel Group chief executive officer Greg Stanaway says this award is considered to be the ultimate achievement for the group and for the Cook Islands.
Stanaway emphasised a focus on consistency and a determination to achieve outstanding guest experiences as the hallmark of success for both Pacific Resort Aitutaki and Te Manava Luxury Villas & Spa. He said: "It is the total team and the people of the Cook Islands that underpin our reputation but I am specifically delighted with how our group's executive management team has developed into a mature, innovative and highly effective hotel management company."
Log on to www.pacificresort.com for more information about Pacific Resort Hotel Group - Cook Islands.
Notes to Editors
About Te Manava Luxury Villas & Spa:
The road less travelled…You're a traveller who appreciates beautiful surroundings and luxurious five star accommodation…and you also value your independence. Te Manava Luxury Villas & Spa has been designed just for you. This new Cook Islands concept in luxury accommodation gives you the freedom to personalise your own leisure experience. Set on the beautiful white sand beach of Rarotonga's stunning Muri lagoon, your private villa awaits. How you choose to use it is completely up to you. For more information visit www.temanava.com
About Pacific Resort Aitutaki:
Secluded Luxury…Like a siren of the Pacific, Aitutaki, Cook Islands, beckons you. This magical place, full of South Seas idyll and romance, is home to Pacific Resort Aitutaki, an enclave of privacy, refinement and luxury, which seduces even the most discerning traveller. Pacific Resort Aitutaki member of the Small Luxury Hotels of the World collection has just 27 luxurious "absolute beachfront" bungalows, suites and villas all with their own personal, panoramic view of Aitutaki's world-famous lagoon, where every sunset majestically captures the colours of the lagoon and the ocean beyond. For more information visit www.pacificaitutaki.com
About Pacific Resort Hotel Group:
Pacific Resort Hotel Group (PRHG) represents a distinctive collection of world class South Pacific hotels. PRHG is a boutique hotel and resort management company with an enviable reputation for resort design, development, management and marketing. PRHG properties offer premium and personable holiday experiences that leave guests feeling rejuvenated, inspired and wanting to share their experience with others. We are a passionate team dedicated to developing boutique island resort and hotel experiences with a focus on local culture, architecture and landscaping. For more information visit
www.pacificresort.com
About World Travel Awards:
The World Travel Awards were conceived in 1993 to acknowledge and celebrate excellence in the world's travel and tourism industry. Now in their sixteenth year, travel professionals and discerning travellers have come to regard the World Travel Awards as the very best endorsement that a travel product could hope to receive. With thousands of votes cast by travel professionals from over 213,000 travel agencies, tour & transport companies and tourism organizations in over 160 countries across the globe, winning a World Travel Award has become one of the highest accolades a travel product or organization can achieve. World Travel Awards are especially coveted as, uniquely, the votes are cast globally by fellow professionals. With trophies awarded in over 1,000 different categories, the World Travel Awards are undoubtedly the world's most comprehensive awards celebration. For more information visit www.worldtravelawards.com
###