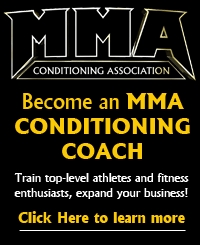 Rancho Santa Margarita, CA, January 23, 2012 --(
PR.com
)-- As the world of mixed martial arts or MMA continues to grow rapidly worldwide, so do the options for learning more about mixed martial arts exercises and trainings. A new website on martial arts business, available at http://www.martial-arts-business.info/, offers a full range of mixed martial arts business opportunities, exercise classes and more for personal trainers, MMA coaches and martial arts fans.
On the new site, martial arts school owners and instructors can find the latest business and athletic training, marketing tactics and certifications to increase enrollment and member retention. Likewise, MMA or martial arts school owners can also earn a Certified MMA Conditioning Coach certification through the Mixed Martial Arts Conditioning Association (MMACA), which allows them to offer their instructors the latest in martial arts conditioning education. All trainings and certifications also include business coaching and development as well as online marketing and branding information to help people run successful martial arts businesses.
In addition, the website offers information on fun mixed martial arts-based classes that are both easy and safe to implement at gyms, martial arts studios or community centers as well as details on a fitness business coaching program.
"Anyone with a passion for mixed martial arts can benefit from our world-class programs, business coaching and models and proven business, marketing and training solutions," said John Spencer Ellis, founder of the Mixed Martial Arts Conditioning Association. "We focus on practical applications, the latest research and proven business models to help business owners, instructors and mixed martial arts fans succeed in following their passion for fitness and martial arts."
About the Mixed Martial Arts Conditioning Association
The Mixed Martial Arts Conditioning Association (MMACA) was developed to bridge the gap between sports conditioning science, MMA training methods and direct application from the ring, octagon, mat or cage. The MMA Conditioning Association is the MMA certification division of the National Exercise & Sports Trainers Association (NESTA), a leader in innovative solutions for fitness, nutrition and wellness professionals, as well as club owners since 1992. The MMACA and its staff of educators, exercise physiologists, dietitians, biomechanists, strength coaches, sports psychologists, physical therapists, massage therapists, kinesiologists and business professionals have joined with the world's top boxers, wrestlers, BJJ fighters, Muay Thai fighters, American kickboxers, MMA fighters and coaches to develop a comprehensive MMA conditioning program. For more information about the program, please visit
http://www.martial-arts-business.info/
###