Mango Madness Skin Care Introduces Neck Firming Cream
Mango Madness Skin Care, a leader in paraben free skin care products, has introduced a new neck firming cream to tighten loose neck skin and reduce neck wrinkles.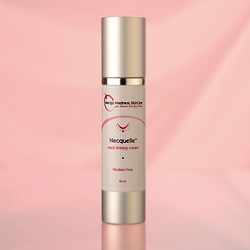 West Palm Beach, FL, January 30, 2012 --(
PR.com
)-- Anti-aging skin care product retailer Mango Madness Skin Care, Inc. has introduced a
neck firming cream
to tighten sagging neck skin and smooth neck wrinkles.
As people age, constant neck and head movements cause neck skin to stretch and gradually lose elasticity. Exposure to sunlight and the natural aging process also contribute to the loss of elastin and cause loose skin on the neck and throat area. Collagen, which is the fibrous foundation underlying the upper skin layers, also diminishes with age. As a result, aging skin loses its firmness and begins to sag.
"Many people take very good care of their facial skin to retain their youthful looks, but their true age is often betrayed by loose, sagging, or wrinkled neck skin," said Gary Myers, president of Mango Madness Skin Care. "Our new neck firming cream, Necquelle™, contains a potent peptide complex, hyaluronic acid moisturizers, and special ingredients to dissolve fat deposits, tighten loose skin, and smooth neck wrinkles; this new neck cream is the perfect complement to our face creams," Myers added.
Peptides are advanced compounds composed of tiny protein fragments that signal the skin to produce more collagen, which helps reverse the skin aging process. Hyaluronic acid is a potent moisturizer with the remarkable ability to hold 1,000 times its weight in water. This helps attract and retain moisture in the skin and also imparts a beneficial plumping effect to help smooth out neck wrinkles.
In addition to being formulated without parabens, Mango Madness skin creams and wrinkle reducers contain no sulfates, phthalates, BPA, or other controversial ingredients. The company performs no animal testing and all ingredients and products are animal cruelty free.
Mango Madness Skin Care manufactures a comprehensive line of paraben-free skin care products including
hyaluronic acid serum
and moisturizers, retinol and peptide wrinkle creams and face creams, a neck firming cream, glycolic acid, amber based and microdermabrasion type exfoliators, a vitamin K dark circle eye cream, gentle skin cleansers, and a broad spectrum sunscreen. The company operates a retail store at CityPlace in West Palm Beach, Fla.
###
Contact
Mango Madness Skin Care, Inc.
Gary Myers
561-369-5471
http://www.mangomadnessskincare.com/

Contact