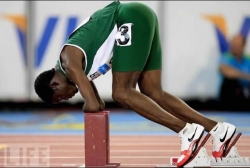 Louisville, KY, January 25, 2012 --(
PR.com
)-- Vitalis Lanshima announces his schedule for 2012 in preparation of the London 2012 Paralympic Games. Vitalis, a Paralympic hopeful, will participate in three indoor track competitions and twelve outdoor competitions at locations across the United States and internationally in preparation for the Paralympics Games. Beginning on February 2nd, 2012 in Anderson, Indiana, Vitalis will open his season at Anderson Indoor Invitational.
The 2012 Paralympic Games will provide Vitalis with the opportunity to reclaim his position as the fastest amputee athlete in the world after switching allegiance from Nigeria to the United States. "Competing for the United States will provide me with the opportunity to compete at the highest level and receive the maximum support that will enable me to aspire to greater height and shoot for the stars."
The 2012 Paralympic Games will take place in London from August 29th to September 9th, 2012 right after the Olympic Games. The Paralympic Games are elite sports event for athletes with a disability as an avenue for them to showcase their athletic talents.
Copies of Vitalis Lanshima's schedule are available for publication by contacting news@vitalislanshima.com . This e-mail address is being protected from spambots. You need JavaScript enabled to view it.
About Vitalis Lanshima
Vitalis is a Paralympic athlete who lost both of his arms through an electric shock accident in 1989. In 2002, he became the first disabled athlete to be recruited from a foreign country by an NCAA accredited institution to represent them in any sporting event when he joined Bellarmine University in Louisville, Kentucky. Vitalis is currently a teacher in Jefferson County, Kentucky and is a doctoral candidate in Educational Leadership.
Media Contact:
Vitalis Lanshima
news@vitalislanshima.com This e-mail address is being protected from spambots. You need JavaScript enabled to view it.
###