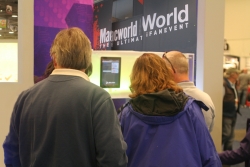 San Francisco, CA, January 30, 2012 --(
PR.com
)-- As technology for iPads and iPhones becomes more sophisticated and user-friendly, business owners are discovering the countless benefits of using iPad apps to assist in the operation of their business. iPad Biz Apps, an online hub for
the best business iPad apps
offered, has been running a competition based on consumer votes for the winner of the Business iPad App of the Year Award. Utilizing the initial feedback from iPad business app users, they narrowed the list down to the top five business apps of 2011: DocuSign, Drop Box, HighRise, Revel Systems iPad POS, and Square.
The arrival of the Macworld │ iWorld Fan Event in San Francisco this weekend gave thousands of Apple lovers and iPad users the opportunity to cast their votes to finalize the competition hosted by iPad Biz Apps. Attendees looked at the iPad business apps and used the following criteria while placing their votes:
· Which is the most useful business app?
· How many functions does the app help a business with?
· How many users have downloaded and are currently using the app?
· Which app has the simplest UI?
· Which app has the best support for customers?
Participation in the contest was great. It was a last-minute decision to allow attendees at the Macworld │ iWorld event to choose the winner and it turned out to be an invaluable experience, as users were able to interact with each iPad business app and provide feedback to representatives of iPad Biz Apps in real time. This interaction provided unique insight into what app users are looking for – and what they don't want to see – when choosing an app for their business.
It was interesting to find out that only two out of the top five apps offered a phone number on their website. While both picked up the phone - which is a plus - one of them asked for money to complete the call. Many of the Macworld | iWorld attendees commented on the fact that DocuSign required you to pay for a call-in plan in order for them to provide service on the phone. The opinion seemed unanimous – that iPad business app users want customer service for free and app owners need to listen up.
Most attendees had positive things to say about all of the iPad business apps. Square and Drop Box were the most well known, but most of the users were completely wowed by the Revel Systems iPad POS that could run a whole restaurant or retail shop by connecting various external hardware components from the Apple iPad.
The votes have been cast and the app users have spoken. The winner of the
Business iPad App of the Year award
will be announced on January 31st, 2012. Find out the results of the top business iPad app of the year award at http://bizipadapps.com.
###