Monroe Students March in the Lunar New Year's Parade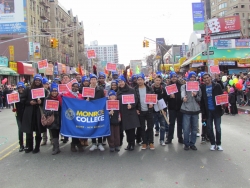 New York, NY, February 10, 2012 --(
PR.com
)-- On Saturday, February 4th 2012, thirty
Monroe College
students and staff took part in the annual Lunar New Year parade in Flushing, Queens. Wearing bright blue hats with Monroe College logos as they paraded through the major streets of Flushing, the group carried Happy New Year signs and shouted the well wishes to the crowd. When the Monroe College students shouted in both English and Chinese to the more than 100,000 spectators, the response was that of surprise and excitement. Many could not believe the mostly non-Asian Monroe group could wish them "Happy New Year" in Chinese, and many clapped their hands and smiled and waved in appreciation.
Lunar New Year, also known as Chinese New Year, is a major festival celebrated by many Asian nations, including China (and Taiwan), Korea, Malaysia, Singapore, Vietnam and others. This tradition continues in many major cities of the U.S. where there are significant populations of people of Asian descent.
After the parade, the students were treated to a delicious Asian lunch and the students mingled among their new-found Asian friends. Although some of them might not have been able to communicate with their students fluently in English, they found a common language to speak with – laughter.
###
Contact
Monroe College
Shane Seaman
1 646 393 8272
www.monroecollege.edu

Contact