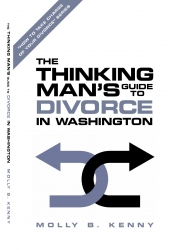 Seattle, WA, February 13, 2012 --(
PR.com
)-- Seattle-area family law attorney Molly Kenny has authored a new book to help men who are contemplating divorce in Washington navigate the divorce process, understand their legal rights, and avoid common pitfalls. The Thinking Man's Guide to Divorce in Washington State is designed to provide men with their own divorce playbook.
More than 50 percent of American marriages end in divorce. According to an analysis of 2008 U.S. Census Bureau data, 10.7 percent of Americans over the age of 15 reported that they have been divorced at least once. Washington ranks among the states with the highest divorce rate, with 12.5 percent of residents reporting that they are divorced.
"After practicing family law for more than 15 years, I have helped dozens of men through the emotionally confusing and financially frustrating process of divorce," said Kenny. "In this book I have tried to answer the most common questions that men have about divorce and give them enough information to feel empowered rather than emasculated."
The book addresses questions such as:
Do I have to leave the house?
How much child support will I pay?
How much time will I get with the kids?
Can we work this out without going to court?
This insightful book coaches men through the divorce process by helping them learn how to calculate child support, gain insight into how family law judges think, and get information on how to protect their financial assets during the divorce.
The Thinking Man's Guide to Divorce in Washington State is available in hardcopy and as an e-book for $16.95 at Amazon.com. As a public service to citizens in Washington State, Ms. Kenny will be providing a free copy of the book to men who are planning a divorce for a limited time. Visit
www.mollybkenny.com
for more information.
Molly has been practicing law for over 30 years. She began working in family law in 1996, and today, her practice provides legal representation to men and women involved in divorce and child custody cases. Molly has also written a guide for women facing divorce, which is available at Amazon.com or www.mollybkenny.com.
###
To request a complementary copy of Molly Kenny's divorce guide or to schedule an interview with Ms. Kenny, please contact Jenny Seibert at (425) 460-0550 or clientrelations@mollybkenny.com.