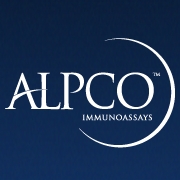 Salem, NH, February 15, 2012 --(
PR.com
)-- ALPCO Diagnostics was recently appointed as Biomedica Immunoassays' exclusive distributor in Canada. ALPCO and Biomedica have had a long-standing exclusive distribution partnership in the United States, and both companies are looking forward to expanding that partnership into Canadian territory.
"ALPCO has successfully promoted and sold Biomedica products in the United States for years, and we are confident that they will continue this success in Canada," says Biomedica Product Manager Thuy Oanh Ho Thi.
ALPCO Vice President of Sales & Marketing Karen Stein had this to say of the distribution territory expansion, "We have a broad, well-established customer base in Canada, and we are excited for this new opportunity to supply these customers with Biomedica's quality cardiovascular and bone metabolism products."
About ALPCO
ALPCO (American Laboratory Products Company) offers a diverse line of assays that appeal to their broad customer base, along with providing outstanding customer service and fast-response product support. In recent years, ALPCO has solidified its place in the market as a developer of industry-leading immunoassays in the diabetes and obesity research field. The company's flagship line of beta cell secretion protein assays was enhanced in 2010 by the introduction of rodent specific assays for proinsulin and c-peptide.
http://www.alpco.com
About Biomedica Immunoassays
Biomedica Immunoassays was started in 1988 as the R&D business unit of Biomedica Medizinprodukte GmbH & Co KG, and is a leading supplier of innovative ELISA systems for clinical research on diseases of the cardiovascular system and bone metabolism. Its core products incorporate ELISAs such as Sclerostin, Osteoprotegerin, BNP Fragment and proANP. All of their ELISAs are fully validated for human samples. The company is known worldwide for its expertise, flexibility and strong focus on customer service and product support.
http://www.bmgrp.com
###