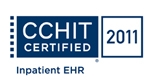 Austin, TX, February 16, 2012 --(
PR.com
)-- VersaSuite, the leading provider of one of the market's most integrated and robust hospital information systems (HIS), is extremely proud to announce that VersaSuite 8.0 has earned pre-market CCHIT Certified® 2011 Inpatient EHR status from the Certification Commission for Healthcare Information Technology (CCHIT®). VersaSuite 8.0 is one of only 5 products available on the market that has earned the rigorous and highly sought-after CCHIT Inpatient certification. With the CCHIT Inpatient EHR certification, VersaSuite 8.0 has earned more combined CCHIT 2011 ambulatory and inpatient EHR certifications than any other EHR or HIS product on the market.
"The CCHIT Inpatient certification rigorously tests a system's ability to perform Computerized Physician Order Entry (CPOE) and Electronic Medication Administration Record (EMAR) in dynamic, real-world workflow while providing comprehensive clinical decision support (CDS). We believe earning the comprehensive CCHIT Inpatient certification is a testament to the breadth and depth of VersaSuite 8.0. The benefits of performing the order and administration process in a single cohesive HIS are profound: because the entire ordering and administration process is driven through one cohesive system, information exchange between physicians, pharmacists, nurses, and other healthcare professionals is automatic and frictionless. We are extremely proud to have achieved this prestigious distinction," said Darius Samani, PhD, MBA, founder and CEO of VersaSuite.
VersaSuite 8.0 automates, simplifies, and expedites order management at every step in the process. Physicians can order directly from the Electronic Health Record (EHR) instead of navigating back and forth between screens, saving precious time. Pharmacists are notified of all incoming orders as soon as they are placed. Nurses and pharmacists can communicate with physicians in real time through VersaSuite's integrated instant messaging system. Nurses can quickly and easily view, navigate, sort, and complete outstanding orders on one screen.
Separately, VersaSuite 8.0 has also received the CCHIT Certified ®2011 designation for EHRs used in Ambulatory Care with additional certifications for:
Cardiovascular Medicine with Advanced Reporting
Child Health
Dermatology
Women's Health
And a 5 star usability rating
VersaSuite is also announcing a groundbreaking rip-and-replace program, which allows eligible hospitals, clinics, and other healthcare organizations to qualify for free or significantly discounted software to replace inadequate legacy systems without large, cost prohibitive cash outlays.
To learn more about VersaSuite, the CCHIT Inpatient EHR certification, or our new rip-and-replace program, please:
Visit us at HIMSS booth #5349
Contact Tom Dorsett, VP Of Sales and Marketing, at 800-903-8774
Email them at sales@versasuite.com
Visit our website at www.versasuite.com
About VersaSuite
VersaSuite is a comprehensive integrated software solution built from one unified code-set that automates healthcare in medical enterprises of all sizes, ambulatory and inpatient. VersaSuite is leading the industry to bring advanced and easy-to-use healthcare automation to hospitals, clinics, practices, surgical centers and community health centers globally. VersaSuite 8.0 is ONC-ATCB 2011/2012 certified to support Meaningful Use for both eligible providers and eligible hospitals. Learn more about VersaSuite 8.0's
Ambulatory ONC-ATCV
certification and
Inpatient ONC-ATCB certification
.
About CCHIT
The Certification Commission for Health Information Technology (CCHIT®) is an independent, 501(c)3 nonprofit organization with the public mission of accelerating the adoption of robust, interoperable health information technology. The Commission has been certifying electronic health record technology since 2006 and is approved by the Office of the National Coordinator for Health Information Technology (ONC) of the U.S. Department of Health and Human Services (HHS) as an Authorized Testing and Certification Body (ONC-ATCB). More information on CCHIT, CCHIT Certified® products and ONC-ATCB certified electronic health record technology is available at http://www.cchit.org.
###