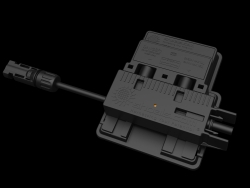 Portland, TN, February 21, 2012 --(
PR.com
)-- Shoals Technologies Group, the global leader in photovoltaic OEM and balance of systems components, and Multi-Contact proudly announces certification to DIN V VDE 0126-5: 2008-05 from TÜV Rheinland for the MultiLink™ junction box. With this certification the MultiLink™ junction box becomes the only certified and "ready to ship" universal interface for photovoltaic modules.
"We are very proud to announce the certification of the MultiLink™ platform and look forward to the effect it will have on the photovoltaic industry. The adoption of power electronics, principally optimizers and micro-inverters, by the mainstream photovoltaic industry has been steadily increasing over the past few years, but due to many factors, primarily cost and flexibility, module manufacturers and installers were slow to adopt integrated electronics. Through our manufacturing relationships we understood there was a true need for a universal interface, essentially the 'USB' port for PV modules, that would allow for a single module to be compatible with a variety of power electronics. It was at this point we leveraged our experience to design a rugged yet flexible system that meets not only the requirements of a standard junction box but serves as an interface that is compatible for PV electronics," said Dean Solon, President and CEO.
The MultiLink™ junction box system features the only universal interface compatible with accessory modules featuring electronics from an extensive catalog of today's leading manufacturers of PV electronics including Tigo Energy, Solantro Semiconductor, SolarEdge, Ampt and Exceltech. If the demand for power electronics is not currently significant, a standard junction box module is available. This insert can be easily removed at a later date in order to install power electronics. These features allow for lower production, installation and engineering costs while providing an unmatched level of flexibility and lifetime upgradability to module manufacturers and installers.
"As the leader in integrated electronics for PV modules, we are pleased to offer a Tigo Energy® SmartModule™ enclosure compatible with the Shoals MultiLink™ interface," said James Bickford, Tigo Energy Director of Business Development. "By utilizing the MultiLink™ compatible j-box containing the Tigo Energy® electronics, our customers can quickly bring a certified SmartModule™ to market with the flexibility to configure the solution for any geography. The Tigo Energy® SmartModule™ interoperates with the industry's leading string and central inverter brands, and is cost optimized for residential and large commercial projects."
Other features of the MultiLink™ junction box include:
- Standardized exterior geometry for automated assembly
- Rated voltage of 1000VDC (TUV) & 600VDC (UL)
- Rated current of 10A
- Temperature range of -40 to +85 degrees C
- Environmental protection rating to IP67
- Manufacturing available in China and USA
The increased risk and costs associated with offering a "smart" module are critical factors that the MultiLink™ platform addresses. In today's volatile industry module manufacturers are in a difficult position where cost and product differentiation are critical factors. In manufacturing, however, it is difficult to add value and reduce costs simultaneously. By using the MultiLink™ junction box PV module manufacturers no longer are required to select a single power electronics platform, manage multiple production lines and SKUs, or introduce electronics assembly into their factories. The MultiLink™ platform allows for the module manufacturer to offer a "smart" module, compatible with multiple different vendors, by simply attaching the junction box normally, no additional electronics are required for assembly or test. For the manufacturer, production costs stay stagnant but the value add to the end product is much higher.
For more information regarding Shoals MultiLink™ junction box, please visit www.Shoals.com or contact Shoals Technologies at +1-615-451-1400 or at sales@shoals.com
###