Mango Madness Skin Care Introduces Nocturne Night Repair Creme
Anti-aging skin care product retailer Mango Madness Skin Care, Inc. has introduced a new night repair cream to be marketed under the brand name Nocturne. The night cream features cotton thistle extract, an ingredient that helps repair and restore the important skin barrier function to address the effects of aging and skin damage.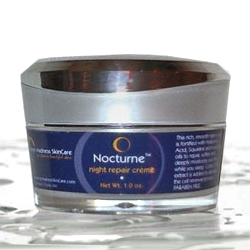 West Palm Beach, FL, March 01, 2012 --(
PR.com
)-- Anti-aging skin care product retailer Mango Madness Skin Care, Inc. has announced a new
night repair cream
to be marketed under the brand name Nocturne™.
A novel ingredient in the new night cream is an extract from the cotton thistle plant that is able to repair damaged skin. One of the more important functions of skin is to serve as a barrier to external pathogens, dirt and toxins. The skin barrier is also vital for retaining moisture in the body. With exposure to excessive sunlight, and from the natural aging process, the skin's barrier function weakens over time. French scientists demonstrated that cotton thistle extract is able to restore skin's barrier function.
When formulating its new Nocturne night cream, Mango Madness Skin Care created a thicker topical cream than is normally used for daytime wrinkle creams. Day creams need to be light and absorb quickly into the skin. A good night time wrinkle cream needs to be able to remain in place for an extended time to be of the most benefit.
"Nocturne night cream repairs the skin barrier, which promotes hydration and smoothness, eases irritation and redness, helps with rosacea and acne, and minimizes skin discoloration, wrinkles and fine lines," said Gary Myers, president of Mango Madness Skin Care. "The development of this new night cream is a direct result of specific demand from our customers, who wanted a night repair cream that is thicker and richer than most of our other products and able to remain in place throughout the night to provide the best benefits," Myers added.
In addition to the cotton thistle extract skin repairing ingredient, the new night cream features such well known skin care ingredients as jojoba, squalane, and hyaluronic acid in potent concentrations. These ingredients provide additional moisturizing and anti-wrinkle benefits.
Mango Madness skin creams and wrinkle reducers are formulated to contain no parabens, sulfates, phthalates, BPA, or other controversial ingredients. The company performs no animal testing and all ingredients and products are animal cruelty free.
Mango Madness Skin Care manufactures a comprehensive line of paraben-free skin care products and including
hyaluronic acid serum
and moisturizers, retinol and peptide wrinkle creams and face creams, a neck firming cream, day and night creams, glycolic acid, amber based and microdermabrasion type exfoliators, a vitamin K dark circle eye cream, gentle skin cleansers, and a broad spectrum sunscreen. The company operates a retail store at CityPlace in West Palm Beach, Fla.
###
Contact
Mango Madness Skin Care, Inc.
Gary Myers
561-369-5471
http://www.mangomadnessskincare.com/

Contact