It's No Mystery: Introducing DACRON® PureStuff™ Fiberfill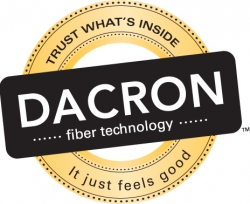 Kennesaw, GA, March 01, 2012 --(
PR.com
)-- When it comes to pure white fill for a clean, crisp-looking pillow, consumers need look no farther than new DACRON® PureStuff™ 100 percent virgin polyester fiberfill. With no recycled content, DACRON® PureStuff™ fiberfill fits the description of what consumers want most inside their pillows.
In recent surveys, consumers frequently used the words "fresh," "clean," "pure" and "new" when describing their pillow preferences (1). Among 12 attributes tested, "comfort," "maintains its shape" and "stays looking new" were tops on consumers' wish lists – with recycled content a distant last (2). Asked why they were not interested in a recycled content pillow, comments ranged from not liking the idea of sleeping on something that has been recycled to concerns about allergens (1).
"Consumers are very clear about wanting to know exactly what's in the pillows they choose for themselves and their families, so we developed DACRON® PureStuff™ fiberfill," said Donna Kelloway, segment manager for INVISTA's North America Fiberfill business. "Pillows with PureStuff™ fiberfill offer quality, comfort and durability at an attractive retail price point, along with the confidence of the DACRON® brand."
The new PureStuff™ logo unmistakably calls out the absence of recycled content and incorporates the DACRON® fiber quality seal, which is based on a legacy of fiber technologies that have earned people's trust for more than 50 years. In nationwide consumer surveys, two-thirds of consumers recognize the DACRON® brand – one of the highest ratings over other comparable home textile brands. Sixty percent of home textile shoppers surveyed say they would pay more for bedding products featuring the DACRON® fiberfill quality seal (3).
PureStuff™ fiberfill will be introduced to the trade at New York Home Fashions Market Week 2012, March 5 – 8. Another recent product introduction, DACRON® Memorelle™ fiberfill featuring SMART technology, a memory foam-like alternative that's gentler on pressure points and more adaptable to the sleeper's movements, will be showcased in New York City exclusively at the Hollander Home Fashions showroom.
About the DACRON® fiber quality seal
The DACRON® fiber quality seal is on the packaging of bedding products filled with luxuriously comfortable Comforel® fiberfill, durable and functional Performa® fiberfill, and long-lasting DuraLife™ fiberfill. The DACRON® fiber quality seal is based on a legacy of fiber technologies that have earned people's trust for more than 50 years. With two-thirds of respondents saying they are familiar with the DACRON® brand in a 2010 nationwide survey, it has one of the highest levels of consumer awareness among popular home furnishings brands. With the quality seal's taglines of "Trust What's Inside" and "It Just Feels Good," consumers can immediately recognize that pillows bearing the DACRON® fiber quality seal offer a combination of fill power, comfort and durability.
About INVISTA
INVISTA is one of the world's largest integrated producers of polymers and fibers, primarily for nylon, spandex and polyester applications. With a business presence in over 20 countries, INVISTA's global businesses deliver exceptional value for their customers through technology innovations, market insights and a powerful portfolio of global trademarks including: ADI-PURE®, ANTRON®, AVORA®, C12™, COMFOREL®, COOLMAX®, CORDURA®, CORFREE®, DACRON®, DBE®, DYTEK®, FRESHFX®, LYCRA®, PERFORMA™, POLARGUARD®, POLYSHIELD®, POLYCLEAR®, SOLARMAX®, STAINMASTER®, SUPPLEX®, SUPRIVA™, TACTEL®, TACTESSE®, TERATE®, TERATHANE® and THERMOLITE®. For more information, visit www.INVISTA.com.
###
Editors Note: (1) Results from 2011 online consumer survey. N =180 (2) Results from 2008 survey of consumers, in person and online. N=538 (3) 2010 Online blind consumer research with nationally representative panel of U.S. home textiles decision makers. N=1041
Contact
INVISTA
Margaret Hussey
937-339-5398
www.invista.com

Contact