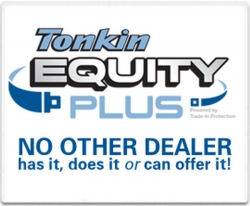 Portland, OR, March 06, 2012 --(
PR.com
)-- Ron Tonkin Chevrolet, a leading dealer of new and used vehicles in Northwestern Oregon and Southwestern Washington, has announced its participation in Tonkin Equity Plus. This program was designed to eliminate or minimize the negative equity of customers' trade-in vehicles.
The term "negative equity" means that an individual owes more money on an auto loan than the car is worth. In the past when trading a vehicle, customers were expected to pay off or finance negative equity. This, combined with the purchase of another vehicle, was a financial burden. Now through this exciting new program customers do not have to absorb one hundred percent of their negative equity.
New qualifying vehicles purchased at Ron Tonkin Chevrolet will now include this trade-in protection at no additional charge. Customers can trade in their vehicle for another halfway through the loan period. If the trade-in vehicle is valued at less than is owed on the car, the program will protect the owner up to $2,500. No other dealer has it, does it, or can offer it.
"We can now offer a more complete service to our valued customers. If halfway through your purchase you find yourself in need of a different vehicle, this program will help protect your investment," said Chad Eddlemon, General Manager at Ron Tonkin Chevrolet. "You no-longer have to feel stuck in a car that is not right for you."
New vehicles can be purchased from any of the Ron Tonkin Dealerships and traded-in at Ron Tonkin Chevrolet to receive this benefit. Additionally, purchase a new Chevrolet from Ron Tonkin Chevrolet and you are able to trade it in to any of the Tonkin Dealerships. Tonkin Equity Plus is offered exclusively at Ron Tonkin Dealerships.
About Ron Tonkin Chevrolet Founded in Portland, OR in 1960, Ron Tonkin Chevrolet is an established local automotive dealer. Ron Tonkin Chevrolet provides consumers with fuel-efficient, safe, and reliable vehicles that deliver high-quality and spirited performance and value. Ron Tonkin Chevrolet sells and services new and used vehicles in addition to selling GM and aftermarket parts and accessories.
Visit our website at
www.tonkinchevrolet.com/equityplus
###