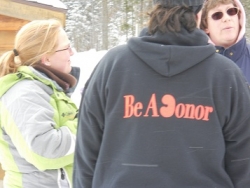 Albany, NY, March 08, 2012 --(
PR.com
)-- One out of 9 adults has chronic kidney disease and most don't know it. This, according to the Northeast Kidney Foundation. During March, National Kidney Month, they want consumers to take notice, and to know their risk factors.
"Chronic kidney disease can develop for years without any symptoms, " says Dr. Thomas Schumacher, a member of the Foundation's Board of Directors. "Those with diabetes and high blood pressure are at greatest risk. "If more people were aware of the risk factors and took preventive measures, we could potentially delay or prevent the need for dialysis. "
Chronic kidney disease is a major health problem that continues to escalate. Nationwide, 26 million people have chronic kidney disease, another 20 million are at risk, and more than 350,000 are receiving dialysis treatment. At a cost of about $71,000 per person per year, it's easy to see the financial burden on our healthcare system.
Complications can result from chronic kidney disease, with heart disease being the most common. This came to light recently when news of Tom Martinez' death of a heart attack while receiving dialysis treatment broke. Martinez was the long time mentor and coach to Tom Brady of the New England Patriots.
"Education and intervention are key," continues Dr. Schumacher. "Knowing your risk factors, taking preventive measures and being proactive are all Important to preventing and managing chronic kidney disease."
The Northeast Kidney Foundation provides education, assistance, clinical education and healthcare advocacy. For free fact sheets about chronic kidney disease and your risk factors, call 1-800-999-9697 ext 2 or email info@healthykidneys.org, For more information on our programs and services visit
www.healthykidneys.org
###