PR.com Creates the "Jenna Jameson Endorses Hillary Clinton" Story with Its Groundbreaking Jenna Jameson Interview
PR.com's interview with Jenna Jameson creates nationwide headlines and late-night television material.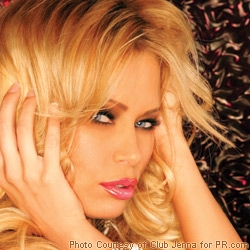 New York, NY, May 21, 2007 --(
PR.com
)-- PR.com's Senior Editor, Allison Kugel, asks
Jenna Jameson
about her political views, including which candidate she supports for the 2008 presidential election, spawning national headlines and making political history. In this in-depth interview, Jenna Jameson reveals that she is a liberal, and expresses her support for Hillary Clinton to get the Democratic Presidential Nomination. Jameson's comments to PR.com hit a nerve with the media, generating headlines nationwide and blanketing the online blogsphere with quotes from the interview.
Jay Leno, Conan O'Brien, Saturday Night Live, Tucker Carlson of MSNBC, among others, picked up on this story, incorporating Jenna Jameson's answers to PR.com into their on-air material. Drudge Report, RushLimbaugh.com and thousands of other blogs ran with Jameson's comments to PR.com, reporting on her quotes about the climate of the adult industry during a democratic administration versus republican, and Jameson's wish to have a woman in office, namely democratic presidential hopeful Hillary Clinton. Thousands of bloggers recognized the story's cultural and societal relevance, analyzing its meaning and questioning their readers for input. As a result, online message boards were flooded with passionate responses to Jameson's political sound bytes.
In true PR.com fashion, this interview pushed the envelope and presented a different angle in covering the world's most famous porn star and adult industry icon, Jenna Jameson. PR.com's Senior Editor, Allison Kugel, covered Jameson from a fresh perspective, creating an exciting momentum of news and publicity for Jenna Jameson and shedding new light on her personality and life story.
Some notable, and now famous, quotes from
Jenna Jameson
's PR.com Interview:
"The Clinton administration was the best years for the adult industry and I wish that Clinton would run again. I would love to have him back in office. I would love to have Al Gore in office. When Republicans are in office, the problem is, a lot of times they try to put their crosshairs on the adult industry, to make a point."
"I love Hillary. I think that in some ways she's pretty conservative for a democrat, but I would love to have a woman in office. I think that it would be a step in the right direction for our country, and there would be less focus on war and more focus on bettering society."
To read PR.com's in-depth interview with Jenna Jameson, visit
http://www.pr.com/article/1066
or go to www.PR.com and click on "
Articles
."
About PR.com:
PR.com
is a unique website where companies can promote literally everything about their
business
in a one stop shop business marketplace. A cross between a public relations and advertising entity, PR.com is a directory of businesses, products and services, a
press release
distribution service,
job search
website, and online publication of articles, reviews and celebrity interviews. With a full company profile, each business listed on PR.com has a powerful means by which to generate quality leads as well as gain worldwide and local exposure for all of their products, services and other business information.
Contact
PR.com
516-520-0000
http://www.pr.com

Contact