Celebrity Interior Designer Kelli Ellis Featured in Newspapers Throughout North America
Celebrity designer Kelli Ellis was recently featured in a spring home insert in more than 5,000 newspapers in the United States and Canada. Ellis offers interior design advice for spring.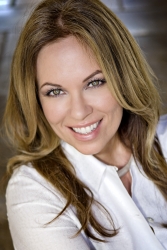 Rancho Santa Margarita, CA, March 10, 2012 --(
PR.com
)-- Making spring cleaning more enjoyable than ever, celebrity designer Kelli Ellis recently offered tips for freshening up homes and interior spaces in a new spring home insert, which was placed in more than 5,000 daily and weekly newspaper throughout the United States and Canada.
In the special insert, Ellis recommends starting with a more neutral foundation and then adding seasonal accents and accessories. In particular, she suggests fresh flowers in the spring as a way of enlivening living spaces, bringing the outdoors in and adding splashes of color. She offers a variety of tips for creating beautiful floral expressions to match people's homes, styles and moods.
"Spring is the perfect season for a fresh start when it comes to inspiring interior design," Ellis said. "While you can always completely overhaul entire rooms and spaces in your home, there are so many inexpensive, fun and fresh ways to give a room new life, new emphasis and new energy with just a few simple updates."
The recent spring insert was offered as part of the periodicals' home editions, which also included articles on spring organizing, home projects and more.
In addition, Ellis now provides interior design advice through the eHow online network of how-to guides and instructional videos.
Based in Orange County, Calif., Ellis works in the fields of design psychology coaching and interior design. With a variety of budget-conscious options for clients, her interior design business, Kelli Ellis Interiors, Inc., includes space planning, color schemes, interior architectural detailing, holiday décor, flooring, fabrics, kitchen and bath design, lighting, outdoor space, accessorizing, staging and more.
About Kelli Ellis
Award-winning celebrity interior designer and design psychology expert Kelli Ellis is owner and lead designer of Kelli Ellis Interiors, Inc. Ellis has a bachelor's degree in Communications from Cal State Fullerton, a law school background and a certification from the Interior Design Institute. She has appeared on TLC's "Clean Sweep," HGTV's "Takeover My Makeover" and Bravo's "Real Housewives of Orange County," where she helped fan-favorite Jeana Keough turn her house in her dream haven. She is also spokesperson for the Society of American Florists. For more information on Ellis' interior design services, please visit
http://www.kelliellis.com/
###
Contact
John Spencer Ellis Fitness & Personal Development
John Spencer Ellis
949-589-9166
http://www.johnspencerellis.com

Contact