Best Canister Vacuum List Released by Vacuum Cleaner Advisor
Vacuum Cleaner Advisor has just published its 2012 list of the Best Canister Vacuums. The list helps consumers quickly identify the best machines for their cleaning needs.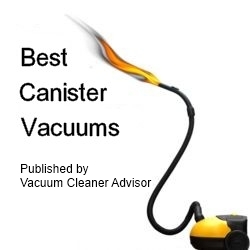 Seattle, WA, March 15, 2012 --(
PR.com
)-- Finding the right vacuum is not easy. There are a vast number of brands and models on the market and many people find themselves buying a machine that just doesn't perform like it should. To help consumers make the right choice, Vacuum Cleaner Advisor has published its Best Canister Vacuum list for 2012.
The list of Best Canister Vacuums is dominated, once again, by Miele, a company that manufactures its vacuums in Germany and has been in business for over 100 years. Other manufacturers represented in the list include LG and Electrolux. All vacuums were chosen for their features and tools as well as their top-notch owner ratings.
Heading the list is Miele's Neptune, a canister vacuum designed for low to medium pile carpet, as well as bare floors. Consumer ratings for the Neptune are consistently in the order of 9 out of 10. Owners praise the machine for its light weight, quiet operation, suction control and lengthy motor warranty. Miele also indicates that the Neptune should have a lifespan of about 20 years, a timeframe not often seen in today's vacuum cleaner market. The Neptune generally costs in the neighborhood of $500.
Other
Miele vacuums
that made the cut include the high-end Capricorn and the more affordable Olympus. The Capricorn is a "no compromise" canister vacuum that comes with a very wide array of features including an LED control panel on the handle and HEPA filtration with activated carbon to eliminate odors. Like most Miele canisters it is quiet and powerful. It also weighs in at a lightweight 13 lbs, despite the bells and whistles. All this does come at a price, and the Capricorn usually retails for over $1000. The Olympus, on the other hand, can be found for about $300 and is also highly rated by owners. However, it is best on bare floors and very low pile carpet only, whereas the Capricorn is at home on bare floors as well as high pile and plush carpet.
LG is a newcomer to the Best Canister Vacuum list. Their LG Kompressor Plus PetCare LcV900B model impressed many a consumer in the past year. This machine sports washable filters, controls on the handle, adjustable suction and LG's "Kompressor" compaction system. The "Kompressor" technology uses a rotating wiper blade in the dust canister to compact dust and debris into a cake-like mass. This compacted refuse disposes of easily and allows the dust canister to hold up to 3 times more than a conventional canister. Prices vary for this unit, but it can usually be found for between $350 and $400.
Electrolux rounds out the list with the UltraSilencer Green EL6984A and the UltraActive Deepclean EL4300A. The UltraSilencer, as the name implies, is very quiet having a sound insulated motor and low-noise nozzle. The EL6984A is also touted as a "green" machine because of its high efficiency motor and use of recycled plastic in the vacuum body. This vacuum is best on bare floors though, and does not excel when used on carpet. On the other hand, the UltraActive Deepclean is designed for cleaning both bare floors and carpet. The machine is also very lightweight, comes with a host of tools and has an easy-to-empty dirt canister. Both of these Electrolux canister vacuums can generally be found for between $250 and $350.
Visit
vacuum-cleaner-advisor.com
to view the Best Canister Vacuum list and to read more about these top rated vacuums. Vacuum Cleaner Advisor provides expert vacuum cleaner reviews and ratings and is designed to help consumers find the best vacuums for their needs quickly and easily.
Contact
Vacuum Cleaner Advisor
Emily Choulasco
206-196-1762
vacuum-cleaner-advisor.com

Contact