Rust-Oleum Zinsser Peel Stop® Triple Thick is Now Available Exclusively at TheHardwareCity.com
Are you sick and tired of peeling paint, weathered surfaces, worn wood and cracks ruining your paint surface? Get a flawless finish and a ready-to-paint surface with more flexibility that is ready in as little as two hours, and enjoy more options when it comes to top coats with Rust-Oleum's Triple Thick primer. No more hunting down for the perfect primer, get Rust-Oleum Zinsser Peel Stop® today.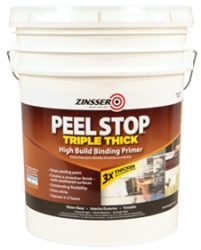 Issaquah, WA, March 16, 2012 --(
PR.com
)-- Rust-Oleum's Zinsser Peel Stop® Triple Thick High Build Binding Primer is now available online exclusively through TheHardwareCity.com website.
The Peel Stop® technology offers a high performance water-based binding primer that keeps peeling paint in its place, seals up cracks and protects worn and weathered surfaces. Unlike other binding primers, Peel Stop® offers three times more thickness and can only be found online exclusively at TheHardwareCity.com. Homeowners and contractors can rest easy knowing that the product that provides a smooth and uniform finish each time no longer has to be a hunting game since this revolutionary Rust-Oleum product can be delivered to their home or office door anywhere within the United States through The Hardware City.
With the Rust-Oleum name, users can rest assured that they will get a quality finish from Peel Stop® both on indoor and outdoor applications. Unlike other binding primers, Peel Stop® is multi-purposed for painted wood, siding, stucco, doors, trim, brick, plywood and even aluminum. No matter the severity of the peel, crack or weathering, Rust-Oleum Zinsser Peel Stop® will fill in uneven surfaces and coat to leave a flawless surface.
Customers already know they are receiving a quality product when it is created by Rust-Oleum. With Peel Stop®, the possibilities are endless. Paint a surface and watch it dry white and ready for repainting within as little as two hours – regardless of the surface condition. With fast drying technology, Peel Stop® Triple Thick gets the job done in record time and quite possibly, the same day. Contractors and homeowners in a time crunch can certainly appreciate that. Rust-Oleum's Zinsser Peel Stop® has a high flexibility compared to the industry standard of X-I-M Peel Bond, which means it can be covered with any latex or alkyd paint and with Rust-Oleum, you know it is a finish that will last awhile.
The Hardware City online offers high-quality tools, hardware and paint products and reasonable market prices for both homeowners and contractors alike. With its headquarters in Issaquah, Washington, this online hardware enterprise is dedicated to helping customers find the best quality hardware and tool supplies for various home and commercial projects.
The Hardware City
www.thehardwarecity.com
Contact
The Hardware City
Sumesh Bhagat
1-888-252-4252
www.thehardwarecity.com/

Contact