The New Atlona's HDBaseT 8x8 AT-PRO2HD88M and 16x16 AT-PRO2HD1616M HDMI Matrix Switchers Are Now Available from BZB Express
HDBaseT™ is the first technology that incorporates 5Play convergence – audio, video, power, Internet, and controls - and allow the home network to reduce the number of cables down to one LAN cable, using the standard RJ45 connector. Atlona Technologies, the global manufacturer for digital connectivity solutions, actively implements this technology. Recently, Atlona added to its high-speed matrix switcher's family, the new 8x8 AT-PRO2HD88M and 16x16 AT-PRO2HD1616M HDMI matrix switchers.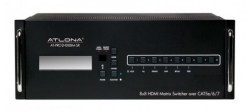 San Jose, CA, March 21, 2012 --(
PR.com
)-- Both of these switchers feature HDBaseT™ technology, extending HDMI sources, including full uncompressed HD audio/video at 1080p resolutions for up to 330 feet over a single twisted pair CAT5/6/7 cable. Users can also extend signals for up to 450 feet at 1080p with updated firmware. Zone specific bidirectional IR pass-through up to 60 kHz, EDID management, and bidirectional RS-232, provided by these switchers, thankfully to HDBaseT™ technology, allow installers to fully control any source or display.
These 8x8 and 16x16 high-speed matrix switchers would be a perfect solution for remotely located HD sources like satellite receivers, Blu-ray™ players, set-top boxes or any other HDMI devices. The AT-PRO2HD88M and AT-PRO2HD1616M feature 8 and 16 HDMI inputs respectively with the same number of independently switchable CAT outputs to route AT-PRO2HDREC and AT-PRO21616M-RX receiver modules, which are sold separately. These receiver modules are equipped with locking power connectors, bidirectional RS-232 and IR, extending HDMI sources for up to 450 feet at 1080p resolutions that support all 3D formats. AT-PRO21616-RX also has built-in audio and de-embedding feature. The
AT-PRO2HD88M
and
AT-PRO2HD1616M
are able to amplify, equalize, and re-clock the signal, providing accurate transmission for long distances without quality loss.
Stereo pass-through is also featured is these switchers to allow the transmission of local source audio from the matrix head-end to zone receiver units. IP and RS-232 support makes them an ideal solution for control systems like Control4, RTI and others. They also provide support for HDCP, Deep Color, and all 3D formats, while preserving 7.1-channel digital audio, including DTS-HD and Dolby® TrueHD. Four U rack ears are included for rack-mount installations and for portability.
Company Overview:
BZB Express is one of the fastest growing nationwide distributors of Audio, Video and Broadcast Equipment. Established in 2005, BZB Express became one of the leading distributors for Atlona Technologies™, Gefen™, Kramer Electronics™, HR™, Shinybow™ and many other AV companies.
Whether you are a regular customer, small to medium-sized business, reseller, or anyone desiring competitive pricing, reliable service and efficient delivery, you'll enjoy shopping with us. Our headquarter is located in San Jose, California.
Contact
BZB Express
Eugene Bocharov
408-293-6399
bzbexpress.com

Contact