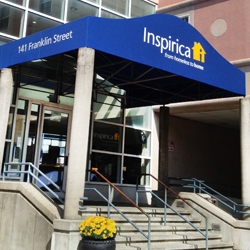 Stamford, CT, March 27, 2012 --(
PR.com
)-- TFI Envision, Inc. was selected by St. Luke's LifeWorks to rename and rebrand this non-profit organization that has been providing shelter and hope to individuals and families struggling with homelessness, for over 100 years.
"Changing the name of this well respected organization was not something we took lightly. We took great care in researching the opportunities and used a process that we have implemented for some of our Fortune 500 clients," said Elizabeth P. Ball, President | Creative Director of TFI Envision, Inc.
The first step in the TFI Envision process included conducting a survey aimed at gauging public opinion on the St. Luke's LifeWorks name. Sent to over 2,000 donors, local businesses, community leaders, clients, staff, and volunteers, the survey found that 45% of respondents did not like the name St. Luke's LifeWorks. Many felt current name and logo did not accurately portray who they are and what they do. Many people were confused by the name and thought they were affiliated with the church, school or hospital that share the St. Luke's name. This is not the case. For more than a quarter century, they have been an independent, non-sectarian organization.
The next step for TFI Envision was to perform a competitive analysis to better understand the landscape and find the "white space" that St. Luke's LifeWorks could capitalize on. Within the research, TFI Envision found that only a small percentage of similar local organizations that did not use some combination of home, homeless or shelter in their name. Through national research, it was determined that there were successful organizations that used nontraditional names. The combination of results from the survey and the competitive research lead St. Luke's LifeWorks to the decide to make a name change.
TFI Envision developed the name and identity: Inspirica – from homeless to home. The name was created to end confusion about any religious affiliation and help to point towards the brighter future that awaits Inspirica's clients rather than their current status.
The new name Inspirica was chosen because St. Luke's LifeWorks wanted an uplifting name that conveys hope and inspiration. The people they serve universally tell them that they never imagined they would be homeless.
The logo for Inspirica was designed to be unique, friendly, approachable, and inspiring in both name and visually. The home icon incorporates at once an open doorway and a person. The warmth of the yellow color is inviting and uplifting. The tagline 'from homeless to home' succinctly reduces the mission statement to its essence as does the home icon – getting people into a home of their own.
TFI Envision worked closely with Inspirica to develop the rollout plan for the new name as well as creating brand standards guidelines, stationery, promotional collateral, facility and navigational signage, and other materials.
TFI Envision developed an animation for the existing website to introduce the new name and is creating a new website, scheduled for launch in June as well as a social media strategy and implementation for Inspirica.
In response, Jason T. Shaplen, CEO of Inspirica said: "I cannot begin to express how much we have enjoyed working with the TFI Envision team. I can't imagine having done this project with anyone else."
U.S. Representative Jim Himes, D-Conn said "I think the rebranding is smart. I think they struggled for some time with the sense that they're religiously affiliated, which they're not anymore. And I like the forward-looking nature of the name."