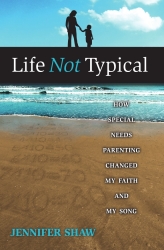 Columbus, OH, April 07, 2012 --(
PR.com
)-- Top 40 Billboard recording artist Jennifer Shaw has released her first book entitled "Life Not Typical: How Special Needs Parenting Changed My Faith And My Song" (Carpenter's Son Publishing/STL Distribution). Touted as the first book of any genre to detail sensory processing disorder (SPD) from the parent's perspective, "Life Not Typical" describes Shaw's journey with her son Toby who suffered from SPD at an early age.
Shaw describes moments of frightening behavior from her son. "He could not touch anything or be touched by anyone other than my husband or me," says Shaw. "He would hardly eat anything and made no sounds except for crying all the time. He would scream in terror if water touched him unexpectedly. SPD is just unrelenting. It was extremely intense, and he could never stay with anyone else, so there was no respite, even at night. There was the fear of not knowing what would happen to him, not knowing if he would ever be 'okay' or if he would be able to live a normal life. You have to rethink what dreams you have from your child. We went from 'maybe he'll be a great this or that' to 'maybe he'll be able to walk on grass someday.' When you work for eight months, every day, just to get him to eat a piece of bread, it changes your definition of success for your child."
The realities of Sensory Processing Disorder are harsh. One study estimated that 1 in 20 children in the U.S. are affected by the disorder. SPD is closely aligned with autism in that every autistic child has some form of SPD. SPD is also often misdiagnosed as ADD or ADHD. Shaw includes five informative appendices in her book, including an in-depth Signs and Symptoms section on SPD as well as original interviews that Shaw conducted with a Certified Early Childhood Intervention Specialist, a Speech and Language Pathologist and an Occupational Therapist who were all instrumental in helping her own son.
"We were just hoping he would be functional," recalls Shaw. "We were told that therapeutic methods used before age three would actually be 're-wiring' his brain. After age three, the brain is not pliable enough, and the therapy shifts to coping techniques. Our friend's son is in that situation, and it is hard. It is also very common since SPD is not usually diagnosed at a young age. In hindsight, we consider it a blessing that Toby's behavior was so severe at an early age that it was obvious something was really wrong. A year after his diagnosis, when he was retested, they described his progress as miraculous, and told us repeatedly that they'd never seen anything like it. One therapist told us that given his intake profile, it 'should not have been possible.' When I share my story at concerts or women's events, I have people come up to me and tell me I am describing their child, but they have never heard of SPD. I want this book to be a quality resource for parents who are facing similar circumstances as well as give them hope that there is help available."
To coincide with the book release, Shaw has also released a new radio single entitled "Life Not Typical," co-written by Shaw and Lifeway Christian Resources' Producer of the Year, Paul Marino. A music video of the song has also been created, directed by Jeffrey Kubach whose credits include the hit television show "Survivor" as well as a Best Pop Music Video nomination from Gospel Music Channel.
About Jennifer Shaw: With degrees in both piano performance and vocal performance, Shaw completed her graduate work in opera performance at the prestigious Manhattan School of Music. A former professor of voice at Cedarville University, Shaw is now a Top 40 Billboard artist and has garnered a #3 hit song on the national Inspirational radio charts. Her CD, "Love Broke Through," also introduced the song "God Loved the World" which was used in Lifeway Christian Resources' Christmas musical last year and was recently the #1 best-selling Easter choral anthem for Lifeway. Shaw and her husband, Nathan, live with their three children in central Ohio.